EBANX launches free app to track online orders worldwide
February 14, 2020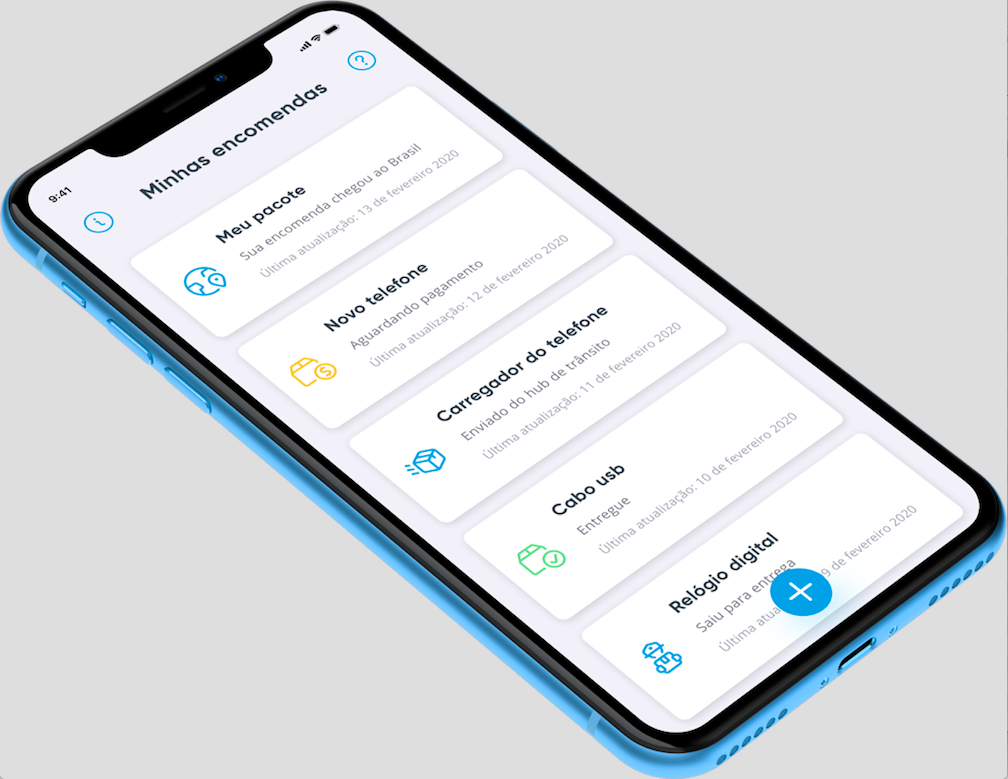 EBANX Track app is now available for download on App Store and Google Play, in Portuguese. Users can receive push alerts on their smartphones at each new status of their parcels
CURITIBA, BRAZIL, February 14th, 2020 – EBANX, a Brazilian fintech company specialized in payment solutions for digital commerce websites in Latin America, has launched the app version of EBANX Track, a free tool to track online orders all over the world. The app is written in Portuguese and is available for both Android and iOS systems. Within the next few weeks, it will also be available in Spanish.
EBANX Track can be downloaded for free by anyone who wants to know the exact location of a parcel. The only information needed is the tracking number of the package, provided by the carrier or by the website where the purchase was made.
Connected with more than 600 couriers worldwide, the app can trace the exact location of a parcel and provide information on its entire path, from the moment of shipment to the final destination – even if the package is abroad.
The service sends real-time notifications about each new status of the parcel. Any user can track several orders at the same time and assign a name to each of them – for example, "headset from website X" or "Mother's Day gift".
EBANX Track also alerts if the package is submitted to the payment of customs fees, such as the Postal Dispatch, charged by the Brazilian Postal Service on some international orders. In this case, the user can access, through the app, a link that connects them directly to the payment page from the Brazilian Postal Service. Thus, the delivery process gains in agility and speed, and the order can be more quickly delivered.
In just a year of existence, EBANX Track has already served over 3 million people and tracked around 3.6 million packages. On average, 300,000 people use the platform every month.
EBANX Track brings in its DNA the expertise of EBANX, which processes payments for global companies such as AliExpress, Wish, Spotify and Airbnb (the last two in partnership with Worldline).
"Our goal has always been to improve the online shopping experience for consumers. EBANX Track is a big step in that direction since it addresses one of the main difficulties of this customer: the lack of information about the delivery time of a parcel", says Ariel Patschiki, product director of End User at EBANX. "With EBANX Track, the consumer has access to the entire route of a parcel, worldwide. This significantly reduces the anxiety of this process, in addition to decreasing the chances of cancellation or return of purchases."
About EBANX
EBANX is a leading global fintech company with Latin American DNA which has recently reached the unicorn status. It has operations in Brazil, Mexico, Argentina, Colombia, Chile, Peru, Ecuador, and Bolivia. The company was founded in 2012 to bridge the access gap between Latin Americans and international websites. Currently, EBANX offers over 100 Latin American local payment options to global merchants and has already helped 55 million people to access global services and products, with over 1,000 merchants expanding to Latin America. AliExpress, Wish, Pipedrive, Airbnb, and Spotify (these two in a partnership with Worldline) are some of the companies that use EBANX solutions. In 2019, EBANX started to offer local payment processing solutions in Brazil through a new company, EBANX Pagamentos Ltda. In early 2020, the company entered the B2C world, with the launch of EBANX GO, a digital payments account with virtual and physical cards for Brazilian consumers. For more information, please visit https://business.ebanx.com/.
Related Releases
[POR] EBANX lança aplicativo gratuito para rastrear encomendas nacionais e internacionais

February 14, 2020

With EBANX, e-commerce merchants can now initiate payments for online shoppers via Pix on their own checkout pages in Brazil

February 15, 2023
View all 30 Releases
Get in touch with our Public Relations office.
For press inquiries, company information, press releases and more, please fill out the form beside or contact our press team via e-mail: press@ebanx.com.