ebanx dashboard
One dashboard to simplifiy your business management
With EBANX Dashboard you can access detailed information and control all of your LatAm payment operations with international and / or domestic funds settlement in a transparent, simple and practical way. Through our Dashboard it is possible to have access to a full reconciliation and reports with detailed content about each payment.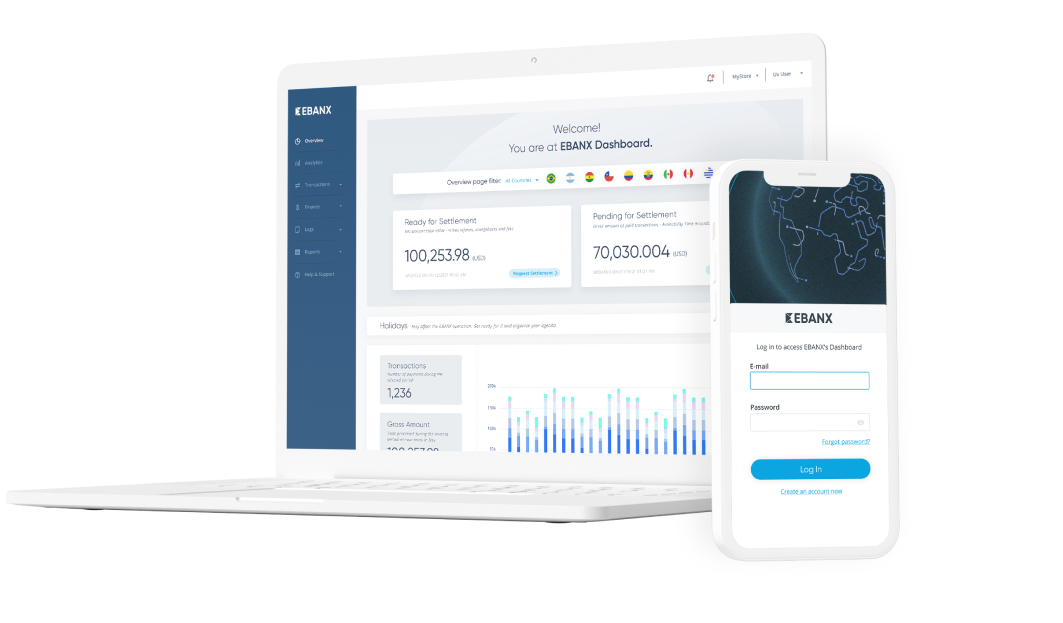 Run your business more efficiently with EBANX Dashboard
Keep on track on your transactions
Know when your payments will be deposited into your account.
Know how your business is performing
Analyze data and generate intelligent reports and insights about your sales.
Control your sales and money
Have access to your processes volume and request settlements.
Easy to control, easier to understand
A simple and intuitive platform for you to manage your business.
Overview
A complete overview of your data combined in all countries or summarized by each
Ready for Settlement.

Pending for Settlement.

Total Processed Volume.

Gross Amount.

Unique Users.

Lifetime processing Share per Country.
Transactions
Get a clear and detailed vision of your Payments, Refunds and Chargeback disputes, shown in a list or graphic format, that can be exported in CSV or XLSX.
Filter by Status Country, Date range, or Payment Methods.

Search transactions by Created or Paid date.

Get customers' information and payment history.

Single transaction. Your customers are able to buy international and domestic products without differences while you receive the funds separately to the right company entity according to your operational model.
Payout
All the resources to support your operations when paying partners in Latin America. You can create requests, manage transactions and payee registers, and transfer funds.
Overview of balance and payout status.

Create payout requests to different countries, either single or multiple via Mass Payout.

Easily transfer funds from your Settlement to your EBANX Payout balance.

Full visibility over all the transactions and payees' registers for all countries with the option to export data.
Reports
Create and export reports regarding all your transactions, Payments, Balance, Refunds, Chargeback and Settlements.
Generate reports to help you analyze your balance, financial transactions and make conciliations.

Export lists from all your payments, refunds and chargebacks disputes.

Analyze all data related to your Settlements.
Analytics
Make decisions based on solid data. With the Analytics you will be able to see your main payment metrics and much more.
See the volume of your approved transactions and the declined transactions reasons.

Monitor your approval, chargeback and refund rates.
Chargeback Dispute
Get more visibility and autonomy over chargeback transactions. This feature allows you to dispute chargebacks and recover this financial loss.
Visualize chargeback reasons and statuses

Dispute fraud and commercial disagreement chargeback reason codes.

EBANX can handle the fraud chargebacks to help and optimize the process, with Automatically Dispute Option.
Settlement
Take a look at the amount ready to be wired and request a settlement.
See all Settlement Preview and what is Pending for Settlement.

See the overall amount of all countries, separated per entity or the amount of a specific operational model: Payment processing with international funds settlement, Payment processing with domestic funds settlement.

Filter your settlement by Settlement code, transfer data, specific period or status.

Have a history of all the settlements that were made and also get the view of the upcoming settlement with all the details as payments transactions, fees, and extra costs.
Logs
Check all comunicacion records regarding your transaction when it comes from EBANX's system to yours.
See all the records coming to our API from your platform.

Get notifications of any changes on your transaction.
Settings
Change your company's information, add or remove users, see your integration keys, language preferences and configure your bank account.
Choose your preferred language: English, Portuguese, Spanish and Mandarin.

Create permissions for your staff - divided into six access levels.

Add, change or update your company name, logo and login information.
Support Center
An area to solve your doubts and problems. Check our guides, videos, presentations, all in one environment.
See the main questions and answers with interactive materials, all in one place.

Get in direct contact with our support team.
Ready to increase your business management with EBANX Dashboard?