Why Latin America?
Twenty countries, each one with their own methods, preferences, rules, and regulations. Yes, it can be challenging to invest in Latin America. But that doesn't mean you should give up on its enormous potential.
After all, success wouldn't taste as good if it weren't for the challenges ahead.The good news is that you don't have to face them all by yourself. That's why EBANX is here.
Reach 15+ countries with the same payments solution
We know how much you want to stay ahead of the game. We also know there's a whole continent waiting for you to be a success in 15 distinct markets (and counting).
Whether you're looking to expand or want to experiment with other business models, Latin America is the place to boost your results, your market reach and your brand awareness.
How big companies are conquering Latin America
Trust and used by global companies
Latin Americans are connected and hungry for global products
For the last few years, ecommerce in Latin America has been growing at an impressive pace. Since 2020, Latin Americans started to buy online like never before, due to the social isolation combined by the region's digitalization. This increase in online shopping is likely to remain for years to come, creating even greater opportunities for global companies within the region.
The financial revolution will be mobile and local. 72% of Latin Americans own a smartphone.
Latin Americans are in the ranking of the most connected people in the world. Brazilians, for example, spend 9 hours per day on the internet, on average. The LatAm population love having access to international brands and digital solutions. However, most people within the region don't have international credit cards. In fact, they are more familiar with local payment methods.
Share of online transactions by payment methods in Latin America
Source: AMI Datapack, 2019
Ecommerce growth forecast (CAGR 2020 - 2024)

Source: AMI Datapack, 2019
One sigle platform
With one single platform, EBANX simplifies all the complexities of the Latin American market - whether you have local entities or not. It's disruptive business model allows consumers to pay for their local or international purchases with their preferred regional payment method.
At the same time, it allows you to choose the best model for your current (and future) business needs. Say goodbye to the complex, say hello to the EBANX way!
Discover more
With EBANX, you have access to a full range of services to increase your go-to-market strategy and optimize your revenue:
One single transaction for both domestic and international sale.
Unified check-out for end-users, no matter where they buy from.
Funds remitted domestically, internationally, or both.
Optimal chargeback performance.
Integrated fraud and risk management.
Consumer and merchant support.
Marketing strategies, market intelligence.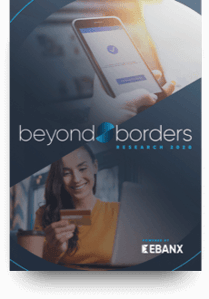 Beyond Borders Research
The market intelligence team from EBANX conducts annual research in order to understand the specific aspects of the Brazilian market and all the potential when it comes to digital commerce.
The time is now to grow your business in Latin America!