Installments
Unlock the power of installments in Latin America
Installments, also known as parcelas in Brazil, cuotas in Argentina, meses sin interés in Mexico, are payment plans that allow consumers to split their payments into affordable monthly increments that fit their budget. Selling installments to Latin American customers is a game-changer, this payment option can increase your conversion rates and your average ticket.
Why will Installments increase your sales?
If you offer local credit card options already, adding installments is simple. Offering an installment payment option enables high-priced products and services to be more accessible to Latin Americans. Unlike when using a traditional credit card, in which the consumer pays the full price upfront and pays off his balance over time with interest, installments are offered to the customer at the point of sale by the merchant.
Make expensive goods and services available to Latin Americans.
Break Credit Card low limit barriers.
Interest-free: you can choose between pay for interests, or charge a little extra fee from them when they opt for installments.
"By understanding that Brazilians need (and love) installments, we co-sponsored EBANX for a 30-day installments campaign, interest-free. The results were amazing: 15K new customers, 22K transactions and a 280% goal achievement."

Your customer split the payment while you get it all at once
With EBANX, you offer your customers the flexibility to pay in their local currency over a chosen period and you receive the money all at once in your bank account anywhere in the world. Installments will allow Latin American consumers to split the total amount due to monthly payments that fit into their budgets. The perfect interest-free solution for you to increase your conversions in the region.
This payment option is especially relevant when it comes to annual subscriptions that can be broken up into 6 or 12 payments. And also for high average ticket products.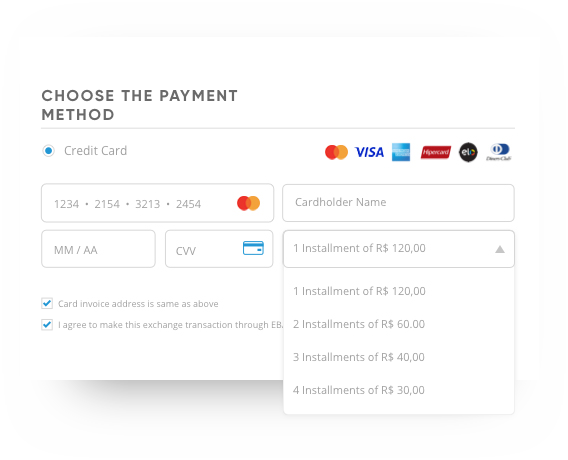 Where are Installments available in Latin America?
| Country | Credit Card Schemes |
| --- | --- |
| | |
| | |
| | |
| | |
| | |
| | |
When using Credit Card, the customer chooses installments as their payment method.
The transaction is authorized and captured for the full amount, but settled in installments over a period of time*
Installments are debited from the customer monthly, by their card issuer, and you receive all at once.
Start selling more to Latin America by offering Installments with EBANX