Adjust the number of installments to the total amount of a purchase in order to maximize the benefits of installments, that is, increasing the number of installments as the purchase amount increases.
Why will Installments increase your sales?
Make expensive goods and services available to Latin Americans.
Break Credit Card low limit barriers.
Interest-free: you can choose between pay for interests and give the best experience to your customer, or charge a little extra fee from them when they opt for installments.
"By understanding that Brazilians need (and love) installments, we co-sponsored EBANX for a 30-day installments campaign, interest-free. The results were amazing: 15K new customers, 22K transactions and a 280% goal achievement."

They split the payment, you get it all at once.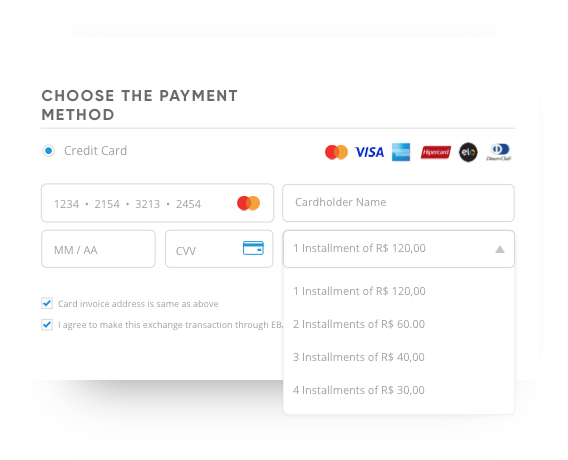 Where are Installments available in Latin America?
When using Credit Card, the customer chooses installments as their payment method.
The transaction is authorized and captured for the full amount, but settled in installments over a period of time*.
Installments are debited from the customer monthly, by their card issuer, and you receive all at once.
Start selling more to Latin America by offering Installments with EBANX