Uruguay, a digital country ready for online business
Despite being a relatively small country, Uruguays has a big influence on Latin America. Its giant steps towards economic, social and cultural development make Uruguay an attractive business environment, especially for e-commerce.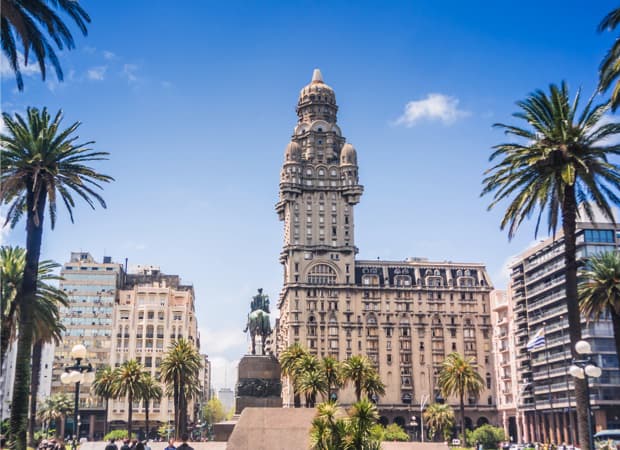 A modern, digital, financially inclusive country
Internet penetration has grown almost 100%* in 2019 and 9 out of 10 households have access to internet

90%* of the adult population in Uruguay use a smartphone. 1 out 3 Uruguayans buy online on a regular basis.

Cross-border accounted for 37%* of total e-commerce in Uruguay in 2019, an impressive growth of 93% in comparison to the previous year.

Uruguay is one of the most advanced software development centers in Latin America, being the leading software exporter in the region and third in the world.

The Uruguayan government's actions towards financial inclusion and the digital economy in Latin America have fostered an e-commerce penetration far higher than that of its neighbouring countries.

Its capital Montevideo was chosen as the seat for the administrative offices of Mercosur, world's fourth largest economic bloc.
Increase your reach by offering credit, debit and prepaid cards in Uruguay
Payment Methods in Uruguay
International cards account for less than half of e-commerce transactions in Uruguay. With a local payment strategy, you allow Uruguayan customers to pay with their card of choice and increase sales in the country.
Discover more about cards in Uruguay
Almost half of all credit cards issued in Uruguay cannot be used to pay for purchases made in international websites. With EBANX local acquiring, there is no distinction between local and international card processing. Start accepting both.

The use of debit cards in e-commerce transactions is gaining popularity -- there was a 48% increase in 2019 -- and an exponential growth is expected in the short term. Accept debit cards in Uruguay and boost your sales.

Prepaid cards are a digital, easy replacement for cash payments. They are the main solution for online retailers seeking to reach Uruguay's unbanked population, since other alternative payment methods are restricted for this e-commerce branch in Uruguay.

Splitting up the total purchase amount in monthly credit card payments is a very popular habit in Uruguay. Maximize your customer's purchase power and increase the average ticket price per order.
Get the broadest reach with local payment methods
Recurring Payments
The high level of digitalization in Uruguay is driving the growth of digital products and services. Get the best support for recurring payments and subscriptions in local currencies
Our payment solution is tailored for Latin America and we are ready to be integrated with your website, application or third party subscription management platform to charge your customers according to your business model.
Discover more about Recurring Payments
Subscription and recurring payments support
Less canceled subscriptions.
Localized customer experience with payment transparency.
Ready to grow your business in Uruguay?