OXXO Voucher Payment
Accept Mexico's preferred voucher payment method
Around 70%* of Mexicans do not have access to banking services, and OXXO allows merchants to tap into this substantial group of online buyers. With more than 18,000 stores across the country, consumers can pay for their online purchases in cash, and merchants have zero chance of a chargeback.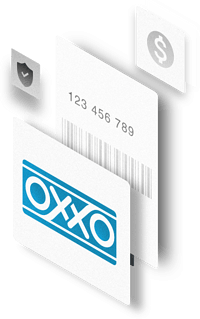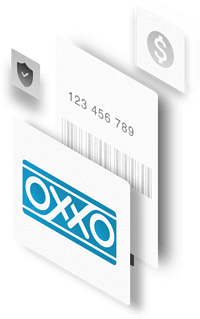 OXXO: the national preference
OXXO is an extremely popular chain of convenience stores in Mexico. With the aim of facilitating payments in the country, the company created the OXXO invoice, a document that is emitted with a barcode and can be paid in any one of the 18,000 convenience stores located throughout the country. It is a popular payment method used to pay from utility bills to online shopping. OXXO is very similar to other popular payment methods in Latin America, such as Boleto in Brazil.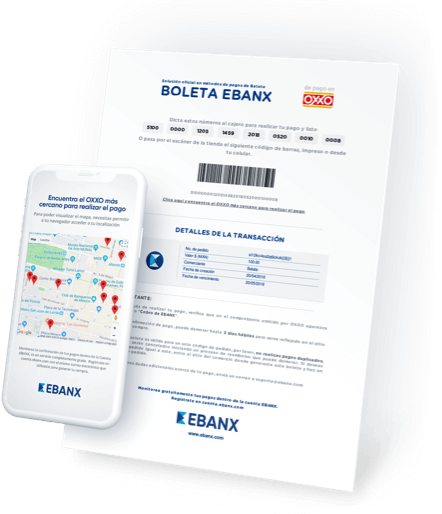 Mexico is a country with high levels of informality in the economy, making it a cash-based society. Also, international credit cards make up only 39%* of all e-commerce transactions, therefore enterprise companies that want to succeed in the region can't have only international credit cards in their payment strategy. Voucher payments play a strategic role in the region, and to get access to a potential customer base is essential to offer local payment options.
For cultural reasons, Mexicans are used to paying with vouchers for their purchases, even if they do have a bank account, debit card, or credit card. This habit repeats itself in online shopping, leading customers to look for e-commerces that offer voucher payment methods. 19%* of payments processing in the online market is done by cash vouchers.
How OXXO payment works
The customer journey:
1
The customer selects OXXO as the payment method in checkout.
2
The voucher containing a barcode is generated for the customer to print or to save in their mobile phone and inform the barcode to the cashier.
3
The customer pays OXXO in cash in over 18k locations.
4
Payment confirmation:
OXXO: up to one business day.
OXXO PAY: confirmation in real-time.
OXXO Pay
The most known payment method in Mexico now with real-time confirmation
OXXO PAY was launched in 2017 in a partnership between OXXO* and Conekta to allow companies to receive cash payments with real-time confirmation and notification, offering more efficiency to run the business.
Enable Real-time confirmation with OXXO PAY*
Offer to your Mexican customers the cash payment method they prefer with instant confirmation.
Security for you and for your customers
Offering a secure payment option is the top 1 main reason for Mexican consumers to buy from a website*, and OXXO is a free risk payment method giving full confidence to both: merchant and customers. A payment method free of risk of chargebacks and fraud.
Customized voucher created by EBANX
OXXO voucher includes geolocalisation, active reminders, and responsive and customized vouchers. All those features are designed to be helpful during all user processes and increase your conversion rates in your e-commerce store.
Increase your sales
Payment vouchers, such as OXXO and OXXO PAY, ran $5.7B USD last year, representing 18% of the payment method share in Mexico.*. Accept this popular payment method and start to sell more to Mexican consumers
Ready to start selling in Mexico with OXXO voucher payment?