Peru, the country with the highest growth in internet users in Latin America
Even though the e-commerce market in Peru is quite new, it's evolving and becoming an opportunity for enterprise companies. The main reasons for this growth are the increase in internet access, governmental policies, lower taxes, and new tools for online transactions.
Companies succeeding in Peru: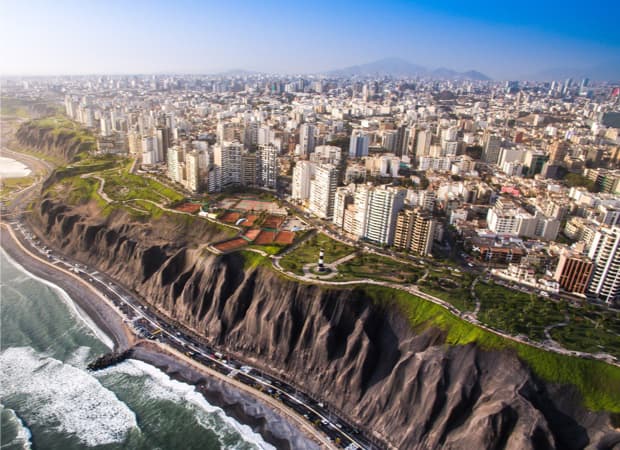 Peruvian consumers want to buy online but with a local experience that guarantees secure transactions.
Peruvians spend more time connected to the internet than Colombians and Chileans. An average of 25 hours* per month online.

Peru is the fifth-largest internet market in Latin America and 43%* of the Peruvian online population is shopping online.

Retail is the main industry in the Peruvian e-commerce market representing 53%* of the market share.

The Peruvian e-commerce market registered a growth of 30%* in 2019, one of the highest among Latin American countries.
Start to sell online in Peru with a local partner
Payment Methods in Peru
Peruvian consumers want to buy online and pay with local payment methods. Even with the growth of financial solutions, only 12% of the population has a credit card and 42% has a bank account. Most Peruvians are introduced to financial solutions through retail cards.
E-commerce volume by payment methods share
Available with local payment processing.
Available with international payment processing.
Source: AMI datapack, 2020.
This payment method allows Peruvians who don't own a credit card or do not trust putting their personal information online, to pay for their online purchases in cash or with debit through online banking.

Discover more about Pago Efectivo

A popular Voucher/Electronic payment solution in Peru that allows customers, with or without a bank account, to shop online. Start offering the payment method your customers want and sell more in Peru.

Discover more about SafetyPay

Local Debit and Credit Card
Get the broadest reach with local payment methods
Recurring Payments
More people have access to the Internet, which is driving the growth of digital and SaaS subscriptions in Peru. Through tokenization, you can accept recurring payments in local currency and optimize your revenue.
Our payment solution is tailored for Latin America and accommodates diverse subscription models available in the market to supports the needs of your company.
Discover more about Recurring Payments
Increase your customer base.
Reduce churn with automatic recurring billing.
Boost payment acceptance in a safe way.
Localized customer experience with payment transparency.
Ready to grow your business in Peru?