[POR] EBANX lança edital de captação de projetos para 2021
November 3, 2020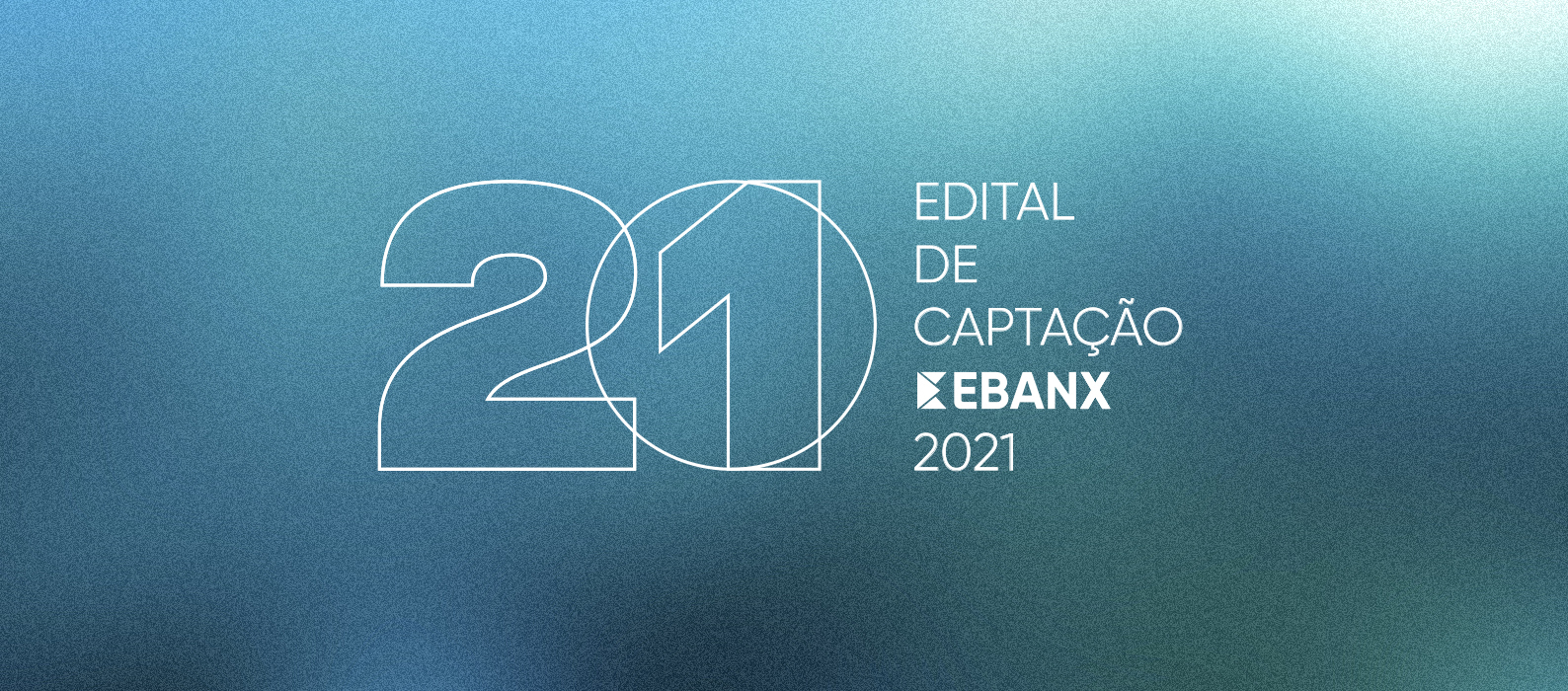 Propostas de cunho cultural, social, esportivo, protagonismo feminino, diversidade, empreendedorismo, inovação e tecnologia poderão ser inscritas até dia 8 de novembro
CURITIBA, 3 de novembro de 2020 – Estão abertas as inscrições para o edital EBANX Community 2021, promovido pela fintech curitibana EBANX, que irá patrocinar projetos aprovados via leis de incentivo fiscal. Até dia 8 de novembro, será possível inscrever propostas de todo o território nacional nas áreas de cultura, social, esporte, protagonismo feminino, diversidade, empreendedorismo, inovação e tecnologia.
A valorização de iniciativas que tragam benefícios à comunidade sempre foi uma premissa na história do EBANX, fintech de pagamentos com atuação global e que busca, desde a sua fundação, apoiar projetos que promovam um impacto transformador na sociedade e estejam alinhados aos valores da empresa.
Este é o segundo ano em que o edital é realizado, mantendo a tradição do EBANX de investir em projetos culturais e de impacto na comunidade. "Mesmo diante de uma pandemia e de todas as dificuldades que ela trouxe, mantivemos o apoio a mais de 30 projetos, que se reinventaram com o distanciamento social. Alguns se transformaram em transmissões ao vivo, abertas ao público, alcançando milhares de pessoas pelo país", afirma Alphonse Voigt, cofundador e CEO do EBANX.
Nos últimos anos, mais de 130 projetos já foram apoiados pelo EBANX – entre eles, o Festival de Curitiba, o teatro EBANX Regina Vogue, o filme Alice Júnior, projetos de apoio ao idoso com investimentos em saúde visual e informatização de asilo, e circuitos de corrida e caminhada.
"Mais do que nunca, precisamos apoiar a comunidade com projetos que alcancem o máximo possível de pessoas, disseminando conhecimento e propagando conceitos de igualdade e respeito ao próximo em tempos tão difíceis e imprevisíveis", complementa Voigt.
Webinar
Para comentar o lançamento do edital e os valores que movem este trabalho, o time de Comunidade da fintech irá realizar um webinar no próximo dia 5 de novembro, às 16h. Para participar, é só se inscrever no site do EBANX Community. Os ingressos são gratuitos e limitados.
O regulamento do edital está disponível para consulta no site do EBANX Community.
Sobre o EBANX
O EBANX é uma fintech unicórnio com atuação global e DNA latino-americano. Tem operações no Brasil, México, Argentina, Colômbia, Chile, Peru, Equador, Bolívia e Uruguai. Foi fundado em 2012 para resolver um gap de acesso entre latino-americanos e sites internacionais. Hoje, a empresa oferece mais de 100 opções locais de pagamento da América Latina, já ajudou mais de 70 milhões de latino-americanos a acessarem serviços e produtos globais, e mais de mil sites internacionais a expandirem para a região. AliExpress, Wish, Uber, Pipedrive, Airbnb e Spotify (esses dois em parceria com a Worldline) são algumas das empresas que usam as soluções do EBANX. Em 2019, começou a oferecer processamento local no Brasil, por meio da empresa EBANX Pagamentos Ltda. No início de 2020, entrou definitivamente no mundo B2C, com o lançamento da conta de pagamentos digital EBANX GO no Brasil. Para mais informações, visite https://business.ebanx.com/pt-br/.
Get in touch with our Public Relations office.
For press inquiries, company information, press releases and more, please fill out the form beside or contact our press team via e-mail: press@ebanx.com.