[POR] EBANX lança aplicativo gratuito para rastrear encomendas nacionais e internacionais
February 14, 2020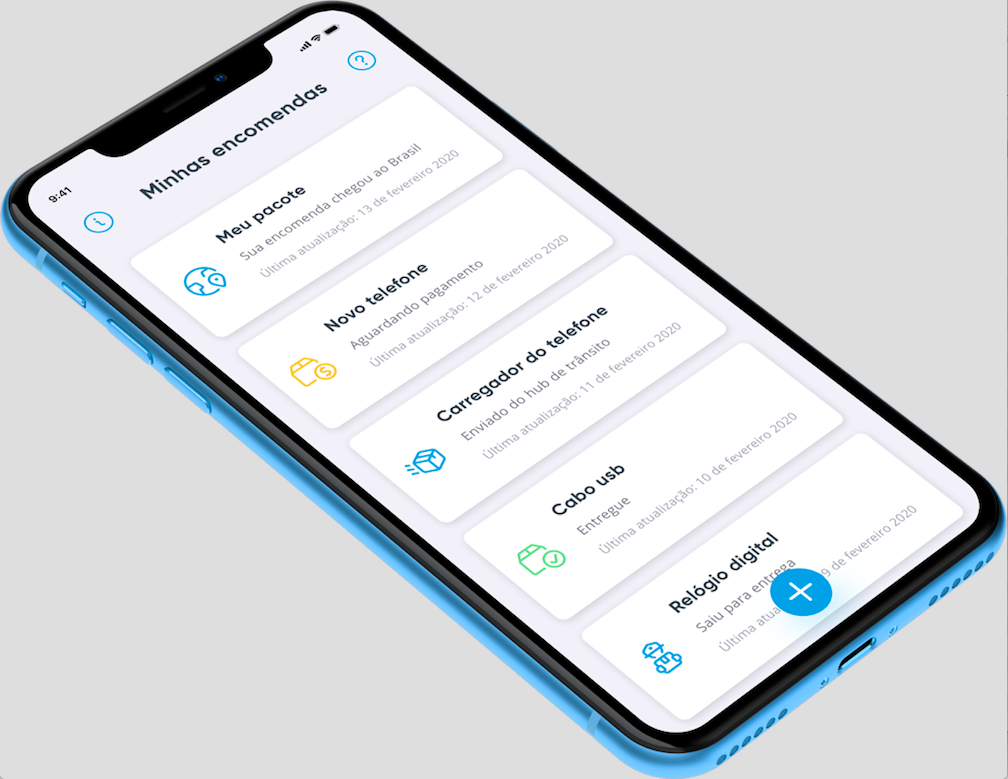 App do EBANX Track já está disponível para download na App Store e Google Play. O usuário pode receber alertas na tela do celular, a cada movimentação do pacote
CURITIBA, 14 de fevereiro de 2020 – O EBANX, fintech brasileira que oferece soluções de pagamentos para compras pela internet em toda a América Latina, lançou nesta semana o aplicativo do EBANX Track, ferramenta gratuita de rastreamento de encomendas nacionais e internacionais. Nas próximas semanas, também lançará a versão em espanhol.
O app, disponível para os sistemas Android e iOS, pode ser baixado gratuitamente por qualquer pessoa que queira saber a localização exata de um pacote. A única informação necessária é o código de rastreio, fornecido pelo transportador ou site em que a compra foi feita.
Com conexão com mais de 600 transportadoras em todo o mundo, o EBANX Track consegue localizar a encomenda e dar informações sobre todo o trajeto do pacote, desde o momento do envio até o destino final – inclusive fora do território nacional.
O serviço também envia, gratuitamente, notificações em tempo real sobre cada movimentação. O usuário pode acompanhar várias encomendas ao mesmo tempo, e atribuir um nome para cada uma delas – por exemplo, "fone de ouvido do site X", ou "presente de Dia das Mães".
O EBANX Track ainda consegue alertar se o pacote for submetido ao pagamento de taxas alfandegárias como o despacho postal, que é cobrado pelos Correios em algumas encomendas internacionais. Nesses casos, o usuário pode acessar, via app, um link que o direciona para a página de pagamento dos Correios. Desta forma, o processo ganha em agilidade e velocidade, e o pedido pode ser retirado em menos tempo.
Em pouco mais de um ano de funcionamento, o EBANX Track já atendeu 3 milhões de pessoas e rastreou 3,6 milhões de pacotes. Em média, 300 mil pessoas utilizam ativamente a plataforma todo mês.
A ferramenta traz em seu DNA a expertise do EBANX, que há oito anos é responsável por processar os pagamentos de compras feitas em sites globais, como AliExpress, Wish, Spotify e Airbnb (os dois últimos em parceria com a Worldline).
"Nosso objetivo sempre foi melhorar a experiência de compra do consumidor online. O EBANX Track é um grande passo nessa direção, e que enfrenta uma das principais dores desse cliente: a falta de informações sobre o tempo de entrega de uma encomenda", afirma Ariel Patschiki, diretor de produto para end user do EBANX. "Com o EBANX Track, o comprador consegue saber todo o percurso de uma encomenda, no mundo todo. Isso diminui sensivelmente a ansiedade desse processo, além de reduzir as chances de cancelamento ou devolução da compra."
Sobre o EBANX
O EBANX é uma fintech global com DNA latino-americano que recentemente tornou-se unicórnio. Tem operações no Brasil, México, Argentina, Colômbia, Chile, Peru, Equador e Bolívia. Foi fundado em 2012 para resolver um gap de acesso entre latino-americanos e sites internacionais. Hoje, a empresa oferece mais de 100 opções locais de pagamento da América Latina, já ajudou mais de 55 milhões de latino-americanos a acessarem serviços e produtos globais, e mais de 1.000 sites internacionais a expandirem para a região. AliExpress, Wish, Pipedrive, Airbnb e Spotify (esses dois em parceria com a Worldline) são algumas das empresas que usam as soluções do EBANX. Em 2019, começou a oferecer processamento local no Brasil, por meio da empresa EBANX Pagamentos Ltda., permitindo que sites brasileiros que vendem no país usem as soluções do EBANX. No início de 2020, entrou definitivamente no mundo B2C, com o lançamento da conta de pagamentos digital EBANX GO no Brasil, com cartão virtual e físico. Para mais informações, visite https://business.ebanx.com/pt-br/.
Related Releases
[ESP] EBANX lanza cuenta digital en Brasil y marca la entrada en el segmento de productos para el usuario final

January 15, 2020

[POR] Uber e Bacen estarão no palco online do capítulo dois do Latin America Summit, do EBANX

October 13, 2020
View all 30 Releases
Get in touch with our Public Relations office.
For press inquiries, company information, press releases and more, please fill out the form beside or contact our press team via e-mail: press@ebanx.com.