EBANX with new YouTube channel on ecommerce and Latin America
June 19, 2018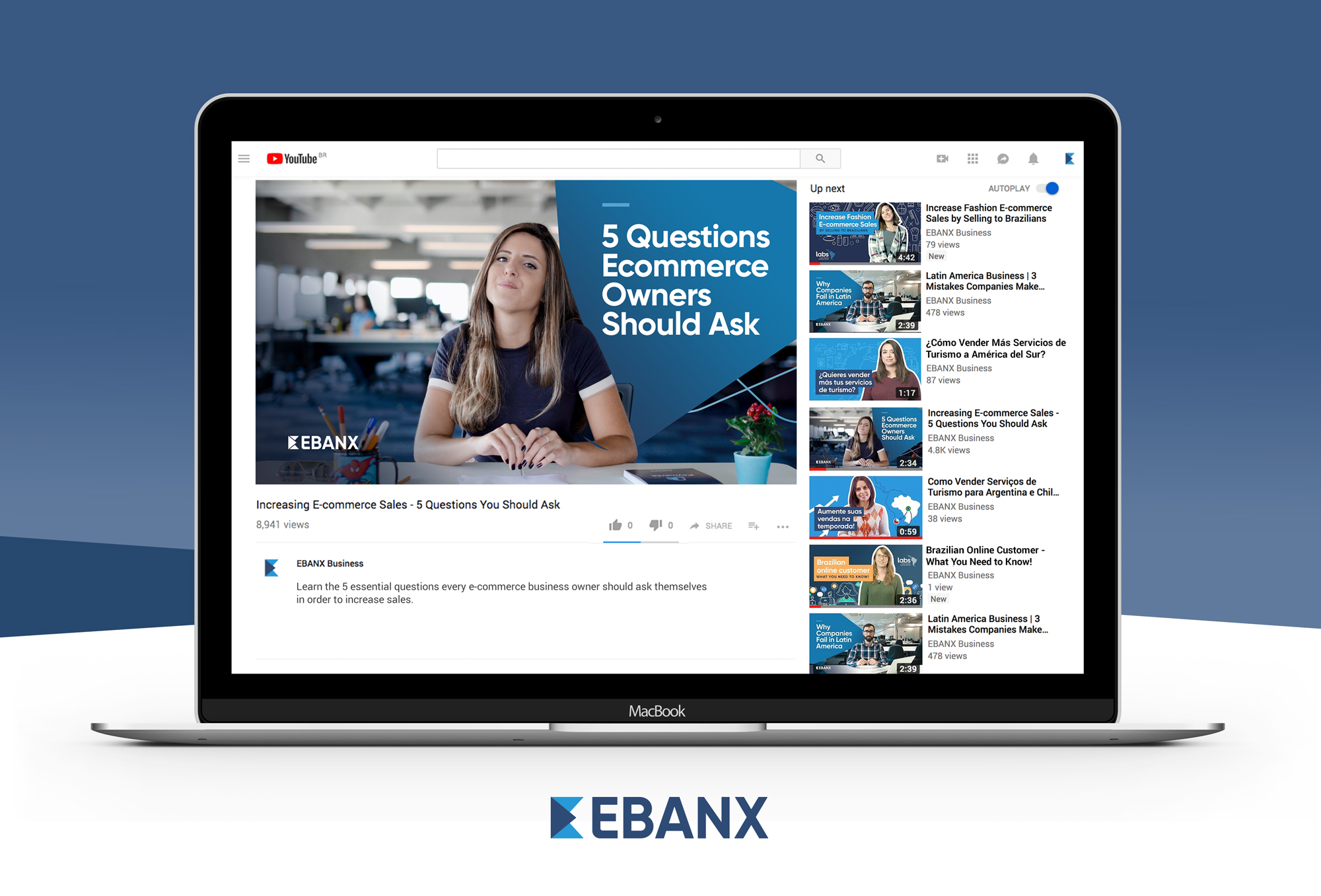 With the new channel, the global fintech company headquartered in Brazil aims to ease the search for information about the region for businesses that sell digital and physical goods

CURITIBA, BRAZIL, June 19, 2018 – EBANX, a global fintech company headquartered in Brazil that offers end-to-end Latin American local payment solutions to global websites, has launched a new YouTube channel, with videos in English, Spanish, and Portuguese that contain information on selling online, tips on doing business in Latin America and curiosities about the region. EBANX Business channel fits merchants of all sizes interested in expanding and looking for information on LatAm presented in a simple way.

On EBANX Business channel, people will find information such as:
● How to expand online sales?
● How to make an ecommerce sell globally?
● How can SEO strategies help increase online sales?
● Why is Latin America a good place to expand to?
● How do Brazilians behave when buying online and how an international digital commerce can sell more to them?

These and other questions are themes for straight-to-the-point videos that are from one to five minutes long. Merchants are welcome to send doubts and requests to EBANX, about what they would like to see in upcoming videos.

Latin America: A market in expansion
With the new YouTube channel, EBANX aims to make it easier for businesses worldwide to know more about Latin America, its cultural and economic aspects, and how the online market works in the region.

This way, international companies can seize the full consumer potential of the region. Latin America holds two of the three fastest-growing ecommerce markets in the world: Colombia and Argentina. Also, as reported by the United Nations Conference on Trade and Development (UNCTAD), it holds the fourth country in the world with more internet users is Latin American – Brazil.

Latin America has a population exceeding 650 million, and it is expected to surpass 150 million online buyers by 2019, according to Satista's data, reaching over $84 billion U.S. dollars in sales.

To watch all videos and discover more about Latin America, please visit EBANX Business YouTube channel page.


About EBANX
EBANX is a global fintech company with Latin American DNA. Founded in 2012, it offers end-to-end payment solutions across the entire cross-border ecommerce transaction flow, providing over 100 Latin American local payment options to global merchants eager to expand throughout the region. The company goes beyond payment processing, by offering merchants marketing consultancy services and a 24/7 local customer support team to serve all their Latin American clients – in their own language. Differentiation like these elevate EBANX to a complete market entry solution. EBANX already helped over 500 merchants expand to Latin America and over 33 million Latin Americans to access global services and products. For more information, please visit https://business.ebanx.com/en/.
Get in touch with our Public Relations office.
For press inquiries, company information, press releases and more, please fill out the form beside or contact our press team via e-mail: press@ebanx.com.