EBANX will be on stage at SaaStock LatAm, in São Paulo, talking about cross-border expansion
April 18, 2019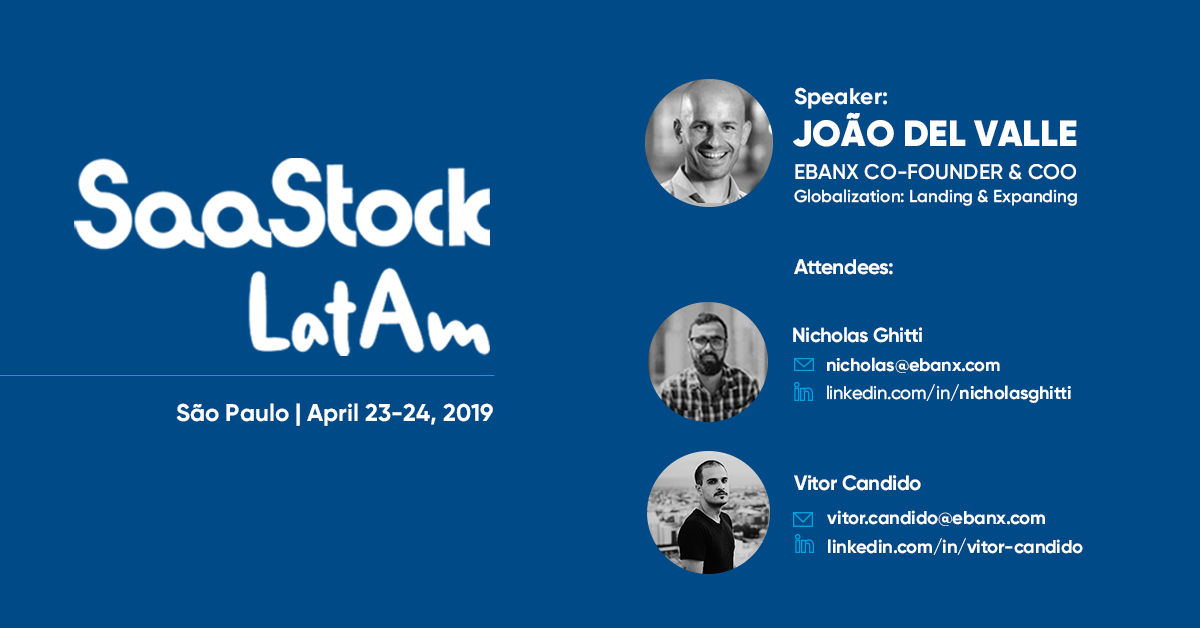 The global fintech company's co-founder and COO, João Del Valle, will be a speaker of the panel discussion "Globalisation: Landing & Expanding", about cross-border expansion of SaaS businesses
Curitiba, Brazil, April 18, 2019 – EBANX, global fintech company with Latin American DNA specialized in helping businesses worldwide to expand through Latin America, that offers end-to-end payment solution across the entire cross-border digital commerce transaction flow in the region, will be on stage at the SaaStock LatAm, that will take place on April 23 and 24 in the city of São Paulo, in Brazil.
This is the first edition in LatAm of the conference that already takes place in Ireland, Australia, Hong Kong, and the US.
SaaStock LatAm will gather over 80 companies, and attendees among founders, execs, and investors from over 10 countries, who are leading the way in Latin America's booming SaaS scene.
EBANX co-founder and COO, João Del Valle, will be a speaker of the panel discussion "Globalisation: Landing & Expanding" (April 24, at 3:05pm BRT) that aims to provide insights about expanding a SaaS business cross-border. Among the insights that will be shared in the panel, are:
Should the company choose an established market or an emerging one?
How to look for partners that can help you through the expansion process.
What are the key differences of expanding to different markets.
João is the mind behind the first platform codes of EBANX, which allow all company operations to work with fast frictionless synergy and responsiveness. With over 20 years of experience in software development, he is currently responsible for operations, technology, product, and customer experience at EBANX, and will be able to share with attendees key learnings from EBANX expansion process itself, as from EBANX merchants expansion processes through Latin America.
EBANX will also have two attendees on-site. Specialists in LatAm Nicholas Ghitti, regional sales manager, and Vitor Candido, sales executive, will be ready to share information on the business opportunities that Latin American markets have to offer for digital goods and services merchants. Nicholas, Vitor, and João will be talking about how SaaS companies can unlock the consumer potential of Latin American powerhouses such as Brazil, Mexico, Argentina, and Chile.
Panel "Globalisation: Landing & Expanding", of SaaStock LatAm
April 24, 2019, 3:05pm BRT
Maksoud Plaza, São Paulo
For more information on EBANX attendance to SaaStock LatAm, please visit: https://business.ebanx.com/en/events/saastock-latam
For more information on SaaStock LatAm, please visit: https://events.saastock.com/latam19

About EBANX
EBANX is a leading global fintech company with Latin American DNA. It has operations in Brazil, Mexico, Argentina, Colombia, Chile, Peru, Ecuador, and Bolivia, and offices in Brazil, Mexico, Uruguay, United States, and the United Kingdom. EBANX was founded in 2012 to bridge the access gap between Latin Americans and international websites, by offering an end-to-end payment solution across the entire cross-border ecommerce transaction flow, providing over 100 Latin American local payment options to global merchants eager to expand throughout the region. The company has already helped over 50 million Latin Americans access global services and products with over 1,000 merchants expand to Latin America. AliExpress, Wish, Pipedrive, Airbnb, and Spotify (these two in a partnership with Worldline) are some of the companies that use EBANX solutions. Besides the cross-border payment processing service, from 2019 EBANX Group started to offer local payment processing in Brazil, enabling Brazilian websites selling inside the Brazilian market to use EBANX solutions. The company goes beyond payment processing, by offering marketing consultancy services to merchants and a 24/7 local customer support team to serve all merchant's clients in Latin America – in their own language. Differentiation like this elevates EBANX to a complete market entry solution. For more information, please visit https://business.ebanx.com/en/press-room.
Related Releases
[POR] EBANX estará no palco da SaaStock LatAm, em São Paulo, para falar de expansão internacional

April 18, 2019

EBANX kicks off operations in Central America, starting with Costa Rica, El Salvador, Panama, Guatemala, and Dominican Republic

March 19, 2021
View all 30 Releases
Get in touch with our Public Relations office.
For press inquiries, company information, press releases and more, please fill out the form beside or contact our press team via e-mail: press@ebanx.com.