EBANX relaunches global content platform about business and technology in Latin America
July 4, 2019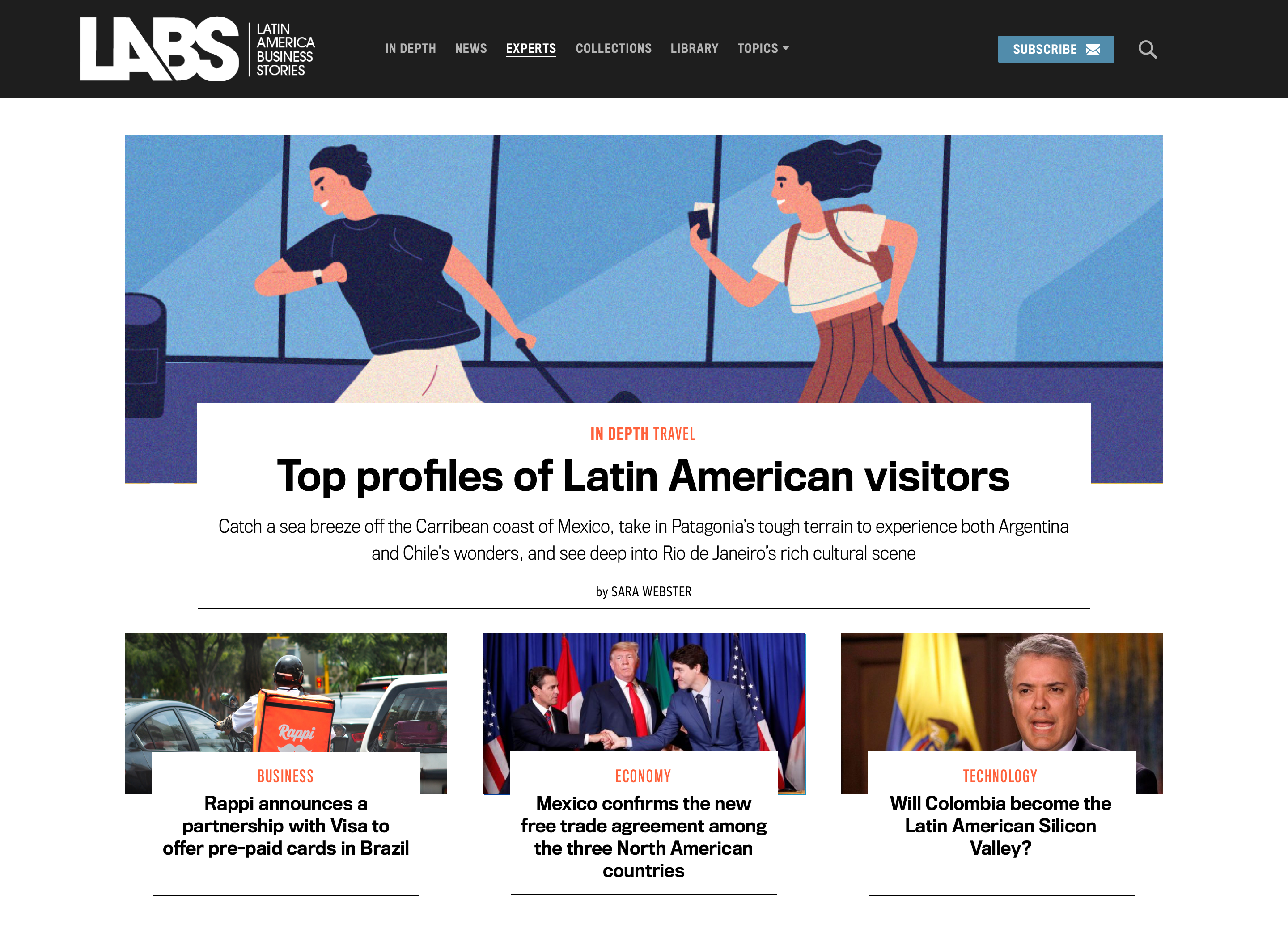 LABS was revamped with a new layout and new editorial guidelines, highlighting the best stories about economics, technology, innovation and business in the region
CURITIBA, BRAZIL, July 4, 2019 – LABS - Latin America Business Stories, a global content platform about business and technology in Latin America, was relaunched with a new layout and a completely new editorial guideline: to tell the best stories about business in the region. The platform was founded and redesigned by EBANX, a fintech company founded and headquartered in Brazil that offers local payment solutions to global digital commerce merchants around the world.
"This change represents what we want: to tell the best stories about business in Latin America. We still have the intention to talk to an audience interested in economics, business, technology, and entrepreneurship in Latin America, but our goal is to tell these stories in a more authentic format and alongside with insights about Latin Americans aspirations, culture, and lifestyle. We will be a business platform focused on the consumer", says Thiago Romariz, the new head of content at EBANX and responsible for the new LABS, which will be released in July 1st.
The website aims to spread its content all over the world, to companies and entrepreneurs who are interested in exploring the business potential of the region. "Our goal is also to tell the stories of Latin America to those who have not been here, in order to challenge prejudices and throw light at what our region really is. We believe the best way to do this is with top-notch, high-quality content", says André Boaventura, partner and marketing director at EBANX.
In addition to the new editorial guideline, which includes sections such as Business, Economy, Society and Technology, the new LABS will also have an expert team, who will write about topics associated with Latin America. "Our columnists will talk about local payments methods, the startup's scenario, but also about culture and society in the region. We believe this is essential for any business that wants to strengthen its presence here. We want to give them the full context about what is to live and to endeavor in Latin America, based on deep, rewarding stories and insights from our specialists", Romariz adds.
Social media is also a priority in the new project, which is focused on both B2B and B2C content. "Our content is business-oriented, but at the same time, we look at the audience as a consumer who wants the best experience, whether on the LABS platform itself or on other outlets and networks he goes. Reading about market, economics, and payments can truly be a pleasant experience. It should have depth, empathy, appealing storytelling, like any other content. And we are putting this in all our initiatives, from the creation of the articles to the distribution in the media on and offline", says Romariz.
Reports, studies and market intelligence
Alongside with the new concept of LABS, there is also an important positioning of the platform in recent months within EBANX: it will remain the place where reports, surveys and insights about the Latin American market are published. According to Romariz, the idea is to continue to publish these studies and to expand their complexity over time, for them to serve not only as a product for the company itself, but also for entrepreneurs and businessmen who are or intend to be in the region.
LABS - https://labs.ebanx.com/en/
About EBANX
EBANX is a leading global fintech company with Latin American DNA. It has operations in Brazil, Mexico, Argentina, Colombia, Chile, Peru, Ecuador, and Bolivia, and offices in Brazil, Mexico, Uruguay, United States, and the United Kingdom. EBANX was founded in 2012 to bridge the access gap between Latin Americans and international websites, by offering an end-to-end payment solution across the entire cross-border ecommerce transaction flow, providing over 100 Latin American local payment options to global merchants eager to expand throughout the region. The company has already helped over 50 million Latin Americans access global services and products with over 1,000 merchants expand to Latin America. AliExpress, Wish, Pipedrive, Airbnb, and Spotify (these two in a partnership with Worldline) are some of the companies that use EBANX solutions. Besides the cross-border payment processing service, from 2019 EBANX Group started to offer local payment processing in Brazil, enabling Brazilian websites selling inside the Brazilian market to use EBANX solutions. The company goes beyond payment processing, by offering marketing consultancy services to merchants and a 24/7 local customer support team to serve all merchant's clients in Latin America – in their own language. For more information, please visit https://business.ebanx.com/en/press-room.
Related Releases
Uber and Central Bank of Brazil are among key speakers at chapter two of Latin America Summit by EBANX

October 13, 2020

EBANX announces commercial executive Greg Cornwell as new VP of Business Development, as the Brazilian payments fintech giant scales its business globally

November 1, 2022
View all 30 Releases
Get in touch with our Public Relations office.
For press inquiries, company information, press releases and more, please fill out the form beside or contact our press team via e-mail: press@ebanx.com.