EBANX launches market intelligence platform about Latin America in four languages
December 17, 2018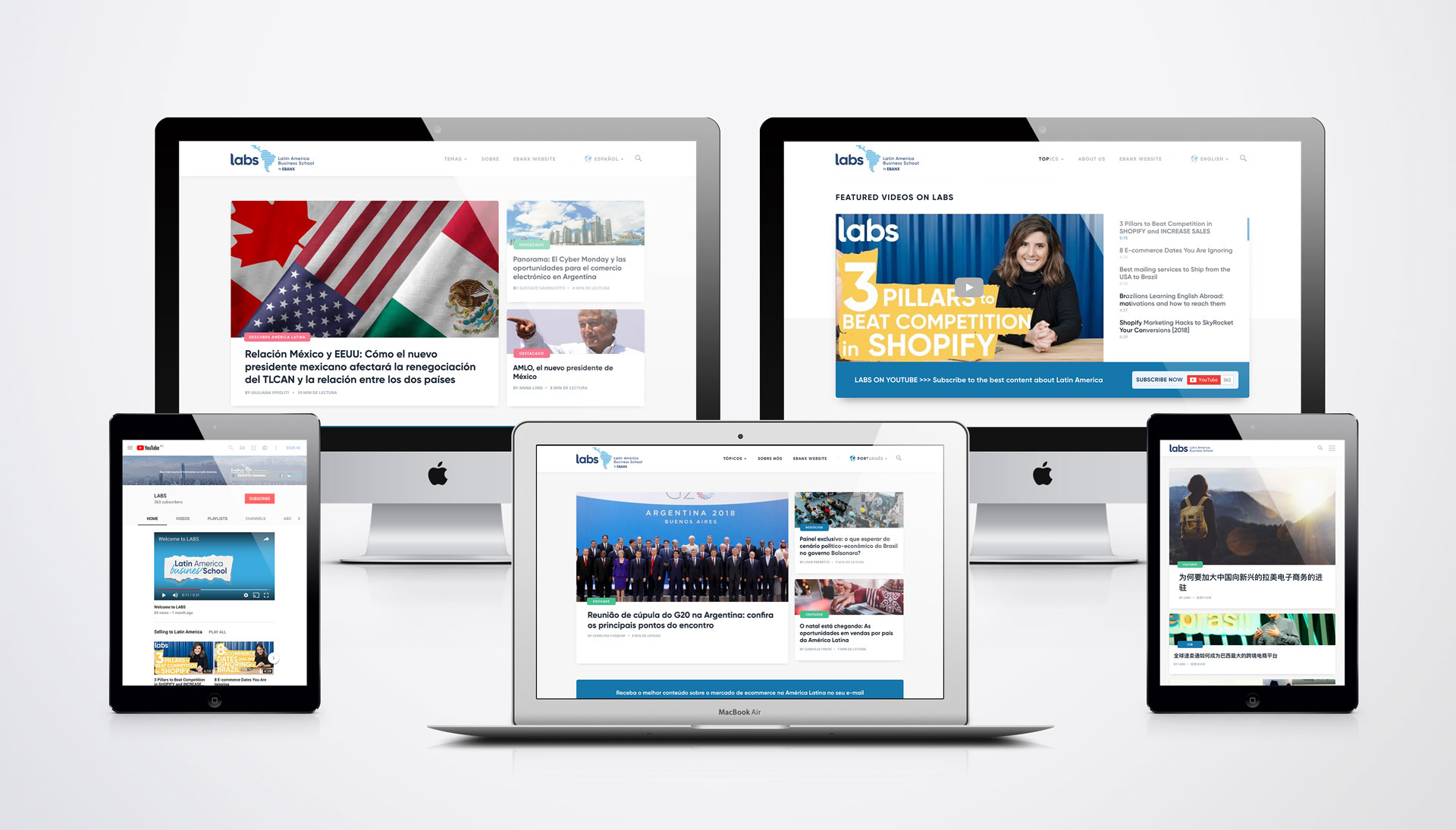 LABS – Latin America Business School offers in-depth and assertive content about the region's business landscape, so that businesses from all around the world can deeply understand it

CURITIBA, BRAZIL, December 17, 2018 – EBANX, global fintech company with Latin American DNA that offers local payment solutions from Latin America to global digital commerce merchants, announces the launch of LABS – Latin America Business School, a B2B market intelligence platform focused on Latin America.

Through the team's knowledge about Latin America and internal data from EBANX, as well as the opinion of market specialists, the platform presents in-depth and assertive content about ecommerce and payments, logistics, economy, politics, among other topics. This kind of content provides readers with an outlook of the Latin American business landscape.

"With solid and uncomplicated content, LABS aims to help businesses from all around the world to really grasp the region. Presented with all these insights, they can act and enjoy all the consumer potential of Latin America", said Mylena Gama, editor-in-chief of the platform.

In order to reach as many businesses as possible, that are interested in deeply knowing about Latin America, LABS offers market intelligence content in English, Spanish, Portuguese, and Mandarin. The content is not simply translated, but created based upon what each of these audiences want to know about the region.

LABS goes hand in hand with EBANX mission, to bridge access between Latin Americans and global products and services, making it possible for Latin Americans to pay for it the way they are used to, and making it possible for international companies to reach all their potential consumers in the region.

Also, it resonates EBANX differentials, of going beyond payments: besides payment solutions, EBANX offers to its merchants all the know-how on the region, marketing consultancy, and customer services for all merchant's consumers in the region.

LABS links:
LABS English – https://labs.ebanx.com/en/
LABS Spanish – https://labs.ebanx.com/es/
LABS Portuguese – https://labs.ebanx.com/pt-br/
LABS Mandarin – https://labs.ebanx.com/cn/


About EBANX
EBANX is a global fintech company with Latin American DNA. It was founded in 2012 to solve an access gap between Latin Americans and international websites. With technological solutions of local payment methods from Latin America, EBANX already enabled more than 40 million Latin Americans to buy on international websites and over 500 digital commerce merchants worldwide to reach all their consumers in the region. Currently, EBANX has offices in Brazil, Uruguay, Mexico, and the UK; has commercial presence in the United States and in Asia; and operations in Brazil, Mexico, Argentina, Colombia, Chile, Peru, and Ecuador. For more information, please visit https://business.ebanx.com/en/.
Related Releases
New EBANX gateway for Magento allows the acceptance of the most popular local payments in Latin America

September 25, 2017

EBANX with new YouTube channel on ecommerce and Latin America

June 19, 2018

Camel Financial partners with EBANX for payment processing in Latin America

December 3, 2018
View all releases
Get in touch with our Public Relations office.
For press inquiries, company information, press releases and more, please fill out the form beside or contact our press team via e-mail: press@ebanx.com.