EBANX launches digital account in Brazil and sets foot in consumer products
January 15, 2020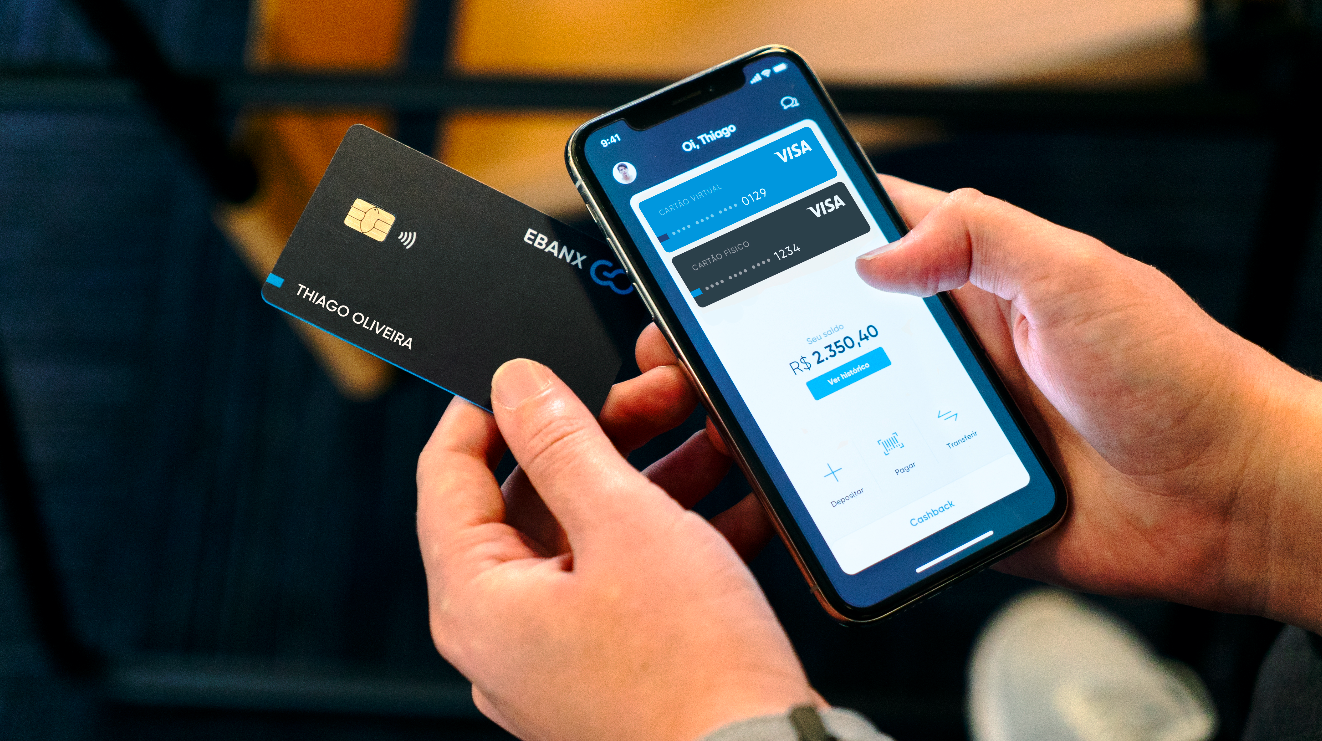 With EBANX GO, the Brazilian fintech born with a B2B focus, comes closer to the end user and expands range of financial options in the country
CURITIBA, BRAZIL, January 15, 2020 – EBANX, a Brazilian payments fintech known for its local payment solutions from Latin America across national and international websites, has launched in beta phase – through its new local payments company, EBANX Pagamentos Ltda. – EBANX GO, a digital payments account with physical and virtual Visa card for Brazilian consumers.
The product marks the entry of the company, which reached unicorn status in October 2019, in the B2C segment – expanding its portfolio and strengthening its presence in the Brazilian payments market.
"Providing access has always been our top mission at EBANX. We started offering Latin American local payment solutions for international websites, which helped popularize global products and services, such as Airbnb, Spotify and AliExpress in Brazil and seven other Latin American countries. EBANX GO is another step in this direction – this time directly in the Brazilian market," said Wagner Ruiz, co-founder and CFO of EBANX.
The EBANX GO card was launched on a test basis, in a partnership with Dock (from Conductor Group) and Visa do Brasil, and was offered by invitation to 10,000 Brazilian consumers in this beta phase. It can be accessed through an app, available for Android and iOS systems. There is a waiting list for those interested in the product, which is expected to launch in the Brazilian market in the second half of 2020.
"We are very happy to support EBANX in building this solution. Partnering with such a disruptive and innovative product is strategic to our commitment to accelerate the transformation behind the increased use of electronic payments in Brazil," said Fernando Teles, country manager at Visa do Brasil.
Among the test features of EBANX GO, there is a 5% cashback reward for purchases made on 18 e-commerce and digital services partners, including AliExpress, Gearbest, and Spotify. The cashback amount is made available within the EBANX GO, and can be used for other transactions or transferred to a second account, depending on the user's preference.
"This is an extremely competitive product that offers real cash back with no expiration date. We are entering this market with a different approach, making the most of all our expertise that we've gained from our experience with global clients and with Brazilian consumers over the years. This ensures that we are offering a distinguished service without losing EBANX's DNA, which has always been about access, speed and financial democratization. We are proud to offer another access platform to thousands of Brazilians," said Ruiz.
One out of three Brazilians do not have access to a bank account, according to a recent survey. Brazil also has one of the highest bank spreads in the world, as reported by the World Bank. The launch of EBANX GO contributes to shift this reality by providing access to affordable and quality financial services to thousands of consumers.
EBANX GO was created by a division of EBANX exclusively dedicated to innovation and the development of new solutions. Another product that originated from this division is EBANX Track, a platform for tracking online orders.
"At EBANX, innovation is present in all areas, not restricted to a specific sector. The projects that have been brought into the End User department are built on this spirit of innovation and with insights from the whole company," said Ariel Patschiki, product director of End User at EBANX Pagamentos Ltda.
How does it work
EBANX GO is a prepaid Visa card and can be used to make purchases at any merchant, website or application that accepts the brand. The product is linked to a payments account, where the user can add an initial balance. After that, consumers can make their purchases using EBANX GO as a virtual or physical card.
There are no fees for depositing, maintaining or opening the digital account, nor for transfers – which can be made from EBANX GO to any checking or savings account.
The 5% cashback will only be offered for purchases made on 18 e-commerce and digital services participating in this trial period of EBANX GO. These merchants include Spotify, AliExpress, Gearbest, UseGiraffe, PatPat, Ctrip, and Civitatis. The full list can be found at www.ebanxgo.com/.
With each purchase made on these websites, consumers will be entitled to 5% of the transaction value back. The amount has no expiration date and will be deposited within 15 business days to the EBANX GO digital account. It can be transferred to another account or used for future purchases, depending on the user's preference.
About EBANX
EBANX is a leading global fintech company with Latin American DNA. It has operations in Brazil, Mexico, Argentina, Colombia, Chile, Peru, Ecuador, and Bolivia. EBANX was founded in 2012 to bridge the access gap between Latin Americans and international websites, by offering an end-to-end payment solution across the entire cross-border e-commerce transaction flow, providing over 100 Latin American local payment options to global merchants eager to expand throughout the region. The company has already helped over 55 million Latin Americans to access global services and products with over 1,000 merchants expanding to Latin America. AliExpress, Wish, Ctrip, Pipedrive, Airbnb, and Spotify (these two in a partnership with Worldline) are some of the companies that use EBANX solutions.
In addition to offering cross-border payments services, EBANX started to offer local payment processing solutions in Brazil in 2019 through a new company, EBANX Pagamentos Ltda, which enables Brazilian websites selling within the Brazilian market to use EBANX solutions. The company goes beyond payments, by offering marketing consultancy services to merchants and a 24/7 local customer support team to serve all merchant's clients in Latin America – in their own language. In 2019, after a follow-on investment from US-based FTV Capital, the company reached the unicorn status. For more information, please visit https://business.ebanx.com/en.
Related Releases
[ESP] EBANX lanza cuenta digital en Brasil y marca la entrada en el segmento de productos para el usuario final

January 15, 2020

[POR] EBANX lança conta digital no Brasil e marca entrada no segmento de produtos para o consumidor

January 15, 2020
View all 30 Releases
Get in touch with our Public Relations office.
For press inquiries, company information, press releases and more, please fill out the form beside or contact our press team via e-mail: press@ebanx.com.