[POR] No mês da mulher, onde elas estão na Tecnologia?
March 15, 2019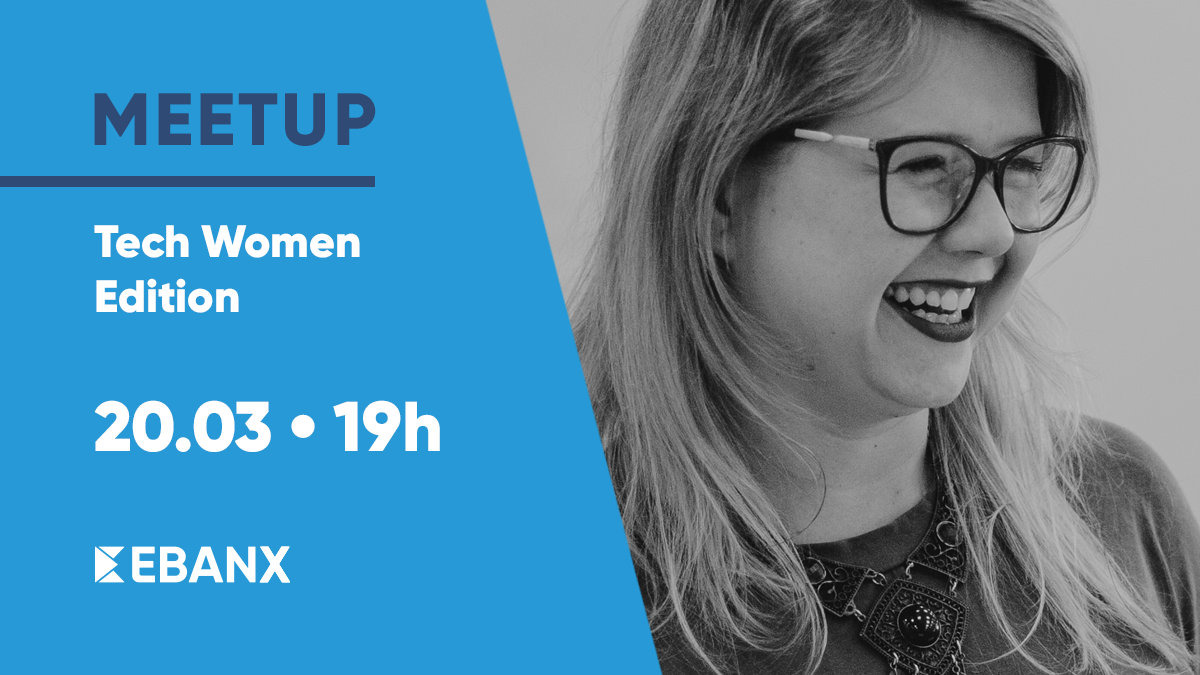 Evento em Curitiba discute o papel da mulher em uma área ainda dominada pelos homens
CURITIBA, 15 de março de 2019 – No ano passado, a Pesquisa Nacional por Amostra de Domicílio do IBGE apontou que só 20% dos profissionais que atuam no mercado de TI são mulheres. Mas, se depender das próximas gerações, esse cenário vai mudar. A fintech curitibana EBANX irá promover, no próximo dia 20 de março, o primeiro EBANX Meetup Tech Women Edition. No evento gratuito, quatro mulheres de sucesso nas áreas da tecnologia comandarão uma série de palestras e bate-papos sobre os desafios enfrentados no mercado de trabalho e contarão cases de destaque desenvolvidos por elas. O meetup será promovido em referência ao mês da mulher e abordará o papel fundamental do sexo feminino no mercado da tecnologia.
Carol Pestitschek abrirá o meetup com o tema Entendendo e Aplicando Gamificação. A UX designer é especialista também em serviço e design de produto, mídia digital e desenvolvimento de jogos.
Engenheira de software da Thoughtworks, Melina Deraldo ministrará a palestra Os fundamentos da Entrega Contínua para Impulsionar Carreiras. Graduada em Sistemas de Informação pela UTFPR, Melina compartilhará dicas sobre desenvolvimento de carreiras, aplicando princípios de entrega contínua que permitem evoluir de forma interativa e que ajudam a evitar a famosa síndrome do impostor que atinge tantos jovens na área profissional.
A palestra Reliability and Observability será comandada por Aline Pêgas. A integrante do time de Cloud do EBANX falará sobre criar e cuidar de sistemas distribuídos de alta disponibilidade. A bacharel em Matemática pela UNICAMP atua em uma cultura DevOps garantindo a disponibilidade dos meios de pagamento locais com os quais o EBANX atua em toda a América Latina.

A gerente sênior de engenharia na Conta Azul, Lici Andreatta, atua há 12 anos no setor, criando sistemas desenvolvidos especialmente para startups, fintechs, empresas de ERP e SaaS. A especialista irá dividir com as participantes do evento sua experiência nas áreas de gestão de engenharia, produto, dados e cultura.
O evento será realizado no Teatro EBANX Regina Vogue, em parceria com a CocoaHeads CWB e GDG Curitiba. As vagas são limitadas.
EBANX Meetup Tech Women Edition
Data: 20 de março ( quarta-feira )
Local: Teatro EBANX Regina Vogue
Endereço: Av. Sete de Setembro, 2775 - Rebouças, Curitiba - PR (Dentro do Shopping Estação)
Horário: 19h
Vagas limitadas
Entrada gratuita
Link para inscrição: https://www.meetup.com/pt-BR/EBANX-Meetups/events/259680495/
Sobre o EBANX
O EBANX é uma fintech curitibana fundada em 2012 para resolver um gap de acesso entre latino-americanos e sites internacionais. Pessoas no Brasil, México, Argentina, Chile, Colômbia, Peru, Equador e outros países queriam comprar nesses sites, mas muitas vezes não podiam porque não dispunham de um cartão de crédito internacional. Da mesma forma, negócios do mundo todo por vezes não conseguiam aproveitar todo o potencial de consumo da América Latina por não disponibilizarem métodos locais de pagamento. Desde sua fundação, o EBANX permitiu que mais de 40 milhões de latino-americanos comprassem em sites internacionais e mais de 1.000 lojas online de todo o mundo pudessem chegar a todos os seus consumidores na região. Para mais informações, visite https://www.ebanx.com/br e https://business.ebanx.com/pt-br/.
Get in touch with our Public Relations office.
For press inquiries, company information, press releases and more, please fill out the form beside or contact our press team via e-mail: press@ebanx.com.