Leading digital commerce companies worldwide will be in Brazil for the LatAm Cross-Border Summit
September 12, 2019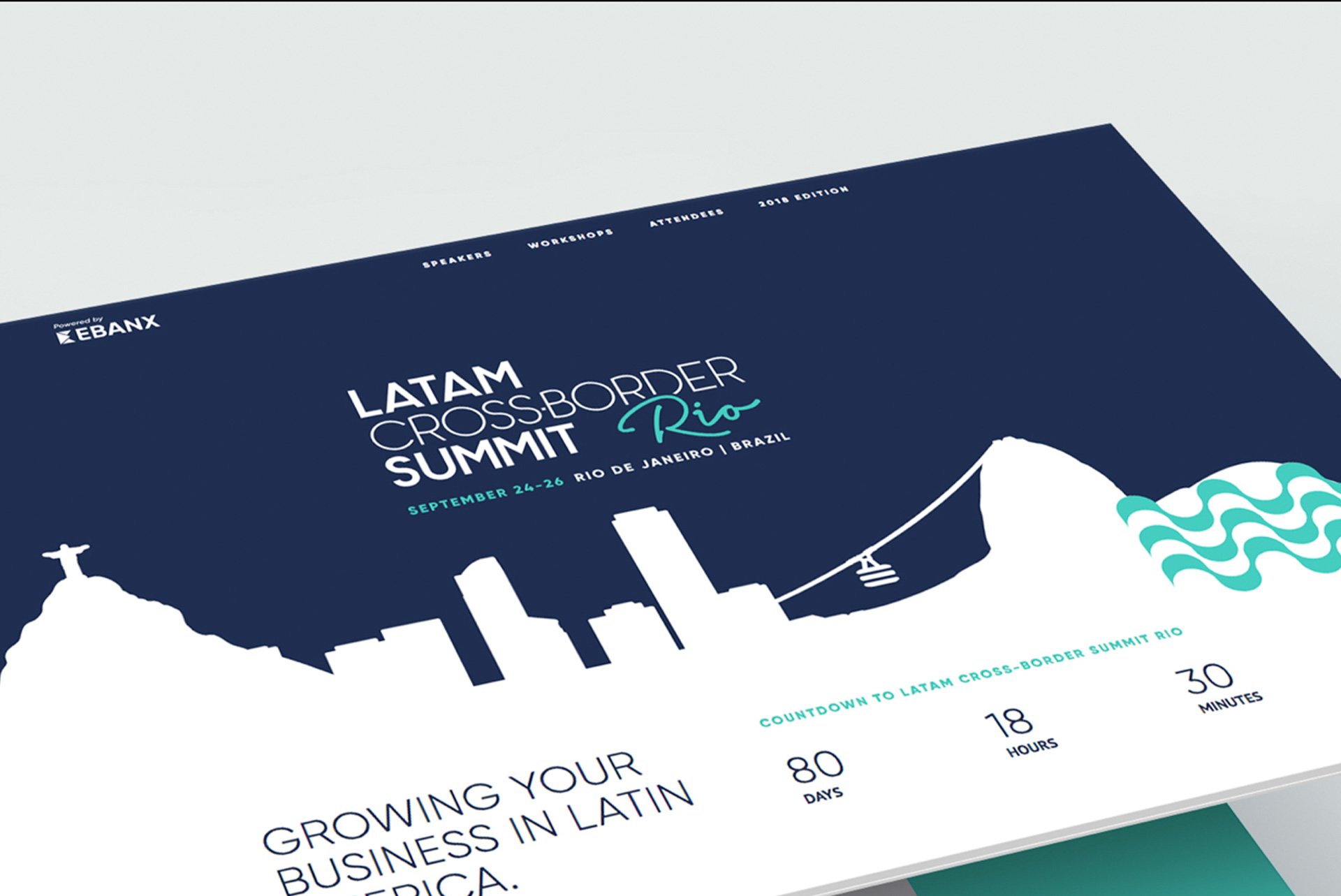 In its third edition, the EBANX invitation-only event will gather representatives from global companies such as AliExpress, Disney, Google, Stone, and Visa
CURITIBA, BRAZIL, September 12th, 2019 – The city of Rio de Janeiro will host the third edition of the LatAm Cross-Border Summit, a leading event about the market of digital goods and services in Latin America. The meeting will bring together about 250 guests from some of the major digital commerce companies worldwide and is held by EBANX, Brazilian global fintech which processes payments in eight Latin American countries, to over 1,000 international companies.
The conference takes place from September 24th to the 26th and is invitation-only. Representatives from companies like AliExpress, Disney, Amazon, Google, Spotify, Worldline, Shopify, Deezer, Xsolla, Tidal, Pipedrive, and Microsoft have already confirmed their presence. During the three days of the event, they will discuss the growth of the e-commerce market in Latin America, the penetration of global digital services in the region, and the rise of fintechs that have been revolutionizing Brazil's financial and payment industry.
Some of the keynote speakers will be André Street, co-founder and CEO at StoneCo, who will present the company's path to IPO; Rosario Marín, former US Treasurer, on the economic forecast and trends of Latin America; Fernando Teles, Country Manager Brazil at Visa, who will address innovation in the Brazilian payments industry; Camilla Junqueira, CEO at Endeavor Brazil, on how Latin America became a start-up nation; Lindsay Lehr, senior director of AMI (Americas Market Intelligence) consulting, who will talk about business opportunities in the region; and João Pedro Paro Neto, Brazil and South America president at Mastercard, on the changing regulatory environment in Latin America.
In addition, executives from global companies that captivated Latin American consumers will present their cases, sharing their expertise with the guests. There will be more than 30 sessions and talks during the three days of the event.
EBANX will also launch at the summit an exclusive survey on the state of cross-border purchases in Brazil. In addition to field research nationwide, the poll will also bring insights from key players in the sector about the current trends and the future of this market in the country.
"We are very proud to bring together the leading digital companies in the industry, which are changing the way people buy products and services worldwide, and that are aware of the great potential of Latin America. The LatAm Cross-Border Summit will be a unique opportunity to network and learn from the best of this industry, while also gaining insights as to how to grow your business in Latin America," says João Del Valle, EBANX co-founder and COO.
Guests will also attend closed sessions to discuss the scenarios of LatAm's key markets, such as Mexico, Argentina and Brazil, logistics solutions, and new payment products and services.
In its last edition, in 2018, the LatAm Cross-Border Summit gathered around 150 guests in Curitiba. Speakers at the event included the then-president of Correios, Carlos Roberto Fortner, and the director of the Argentine Chamber of E-commerce (CACE), Gustavo Sambucetti.
More information and the full schedule can be found at: https://summit.ebanx.com/
About EBANX
EBANX is a leading global fintech company with a Latin American DNA. It has operations in Brazil, Mexico, Argentina, Colombia, Chile, Peru, Ecuador, and Bolivia, and offices in Brazil, Mexico, Uruguay, United States, and the United Kingdom. EBANX was founded in 2012 to bridge the access gap between Latin Americans and international websites, by offering an end-to-end payment solution across the entire cross-border ecommerce transaction flow, providing over 100 Latin American local payment options to global merchants eager to expand throughout the region. The company has already helped over 50 million Latin Americans access global services and products with over 1,000 merchants expand to Latin America. AliExpress, Pipedrive, Airbnb, and Spotify (these two in a partnership with Worldline) are some of the companies that use EBANX solutions. For more information, please visit https://business.ebanx.com/en/.
Related Releases
[ESP] EBANX nombrado en los premios World Changing Ideas 2022 de Fast Company en la categoría Best World Changing Idea LATAM

May 3, 2022

[POR] EBANX é nomeado para o World Changing Ideas Awards 2022 da Fast Company, na categoria Best World Changing Idea LATAM

May 3, 2022
View all 30 Releases
Get in touch with our Public Relations office.
For press inquiries, company information, press releases and more, please fill out the form beside or contact our press team via e-mail: press@ebanx.com.