[POR] Vender na América Latina pelo Shopify ficou mais fácil
February 8, 2019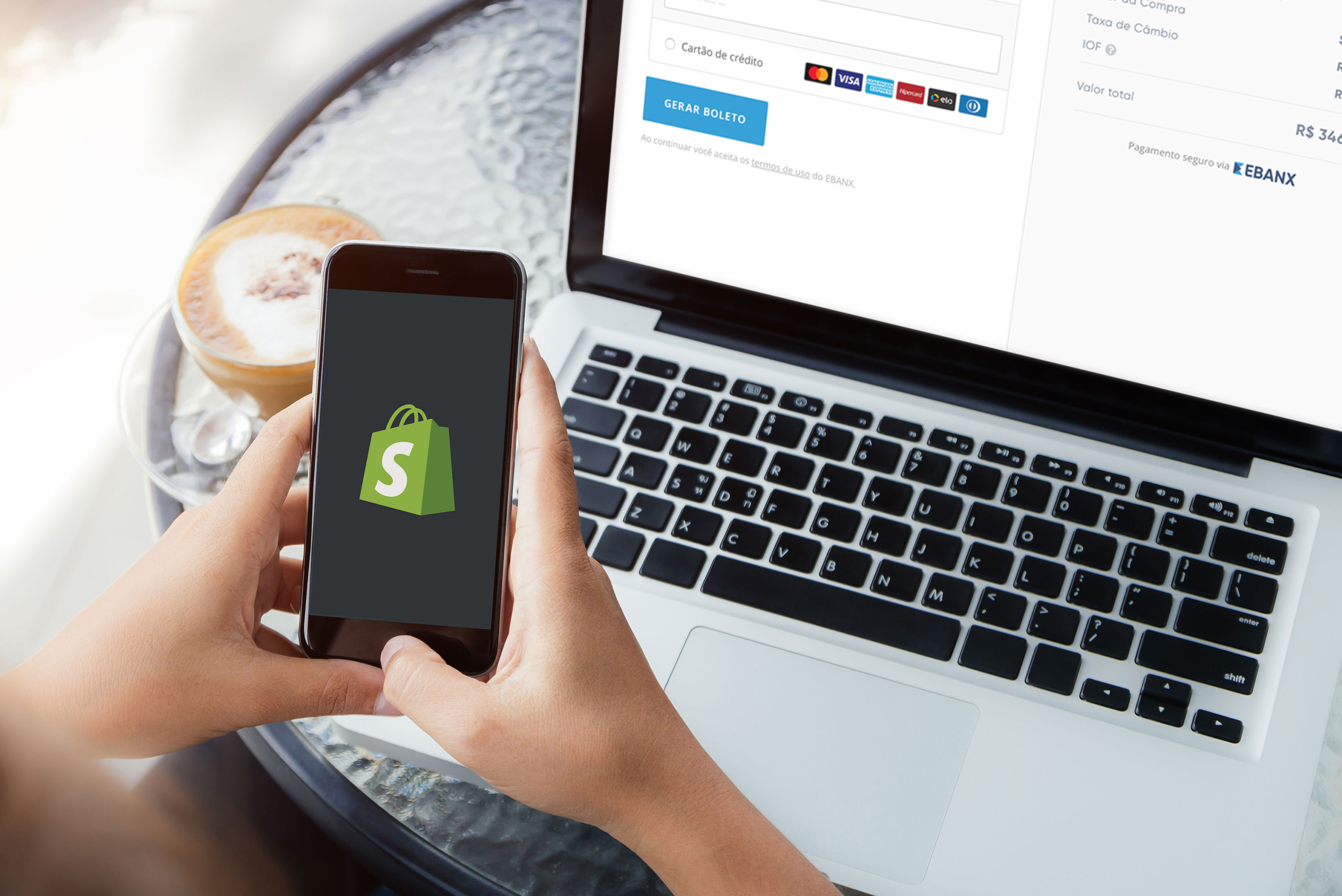 Nova integração do Shopify com o EBANX permite a varejistas internacionais aceitarem os métodos de pagamento preferidos do consumidor latino-americano
CURITIBA, 8 de fevereiro de 2019 – O EBANX, fintech global de pagamentos com DNA latino-americano, foi listado publicamente como provedor oficial de pagamentos do Shopify. Com as soluções de pagamento do EBANX, proprietários de e-commerce que utilizam o Shopify poderão aceitar os métodos de pagamento mais difundidos na América Latina, como cartões de crédito locais, parcelamentos e boletos bancários.
A integração é válida para varejistas de todos os portes, usuários de qualquer plano do Shopify -- incluindo o Shopify Plus, utilizado por grandes empresas. Neste primeiro momento, as soluções de pagamento do EBANX estão disponíveis para vendas realizadas na maior economia da América Latina, o Brasil. O próximo mercado a ser atendido pela fintech será o México.
"A parceria entre EBANX e Shopify cresceu substancialmente, e essa importante integração demonstra, mais uma vez, a missão do EBANX de dar acesso e construir pontes entre latino-americanos e o mundo, ajudando empresas globais a atingir o potencial máximo de consumo da região", afirma Henrik Nilsmo, CCO (Chief Commercial Officer) do EBANX. O portfólio de soluções do EBANX permite que merchants de todo o mundo expandam suas operações para a América Latina, sem precisar constituir uma entidade local.
Para começar a usar as soluções do EBANX no Shopify, o varejista deve apenas selecionar o EBANX como seu provedor de pagamentos, nas configurações de administrador da plataforma. É um processo simples e rápido.
América Latina: um cenário promissor
As vendas de e-commerce na América Latina estão em franca expansão, especialmente em função do crescente acesso à internet e smartphones. Nos próximos cinco anos, as vendas online devem crescer em torno de 19% na região, acima da média global de 11%, de acordo com a FocusEconomics. Em 2021, o mercado de e-commerce da América Latina deve atingir US$ 118 bilhões em vendas.
Em 2017, as vendas de e-commerce na região somaram US$ 45 bilhões, de acordo com a Statista. Quase metade desse valor veio de consumidores do Brasil e México.
Para explorar este mercado e estar à frente dos competidores, oferecer métodos de pagamento locais é fundamental. Em 2017, mais da metade das compras online feitas por brasileiros foram pagas em parcelas, de acordo com o Webshoppers, um relatório anual da Ebit que analisa os hábitos de consumo online no Brasil. No México, a rede OXXO, com mais de 20 mil lojas de conveniência espalhadas pelo país, viraram um hub de pagamentos, permitindo aos consumidores que paguem por suas compras online em dinheiro.
Métodos locais de pagamento são convenientes e têm a confiança dos consumidores latino-americanos, e isso se reflete em crescimento de vendas para empresas globais que queiram vender na região. Com eles, torna-se possível atingir todo o potencial de mercado da América Latina, incluindo quem usa apenas cartões de crédito locais, clientes desbancarizados ou sem acesso a crédito, entre outros.
Sobre o EBANX
O EBANX é uma fintech curitibana fundada em 2012 para resolver um gap de acesso entre latino-americanos e sites internacionais. Pessoas no Brasil, México, Argentina, Chile, Colômbia, Peru, Equador e outros países queriam comprar nesses sites, mas muitas vezes não podiam porque não dispunham de um cartão de crédito internacional. Da mesma forma, negócios do mundo todo por vezes não conseguiam aproveitar todo o potencial de consumo da América Latina por não disponibilizarem métodos locais de pagamento. Desde sua fundação, o EBANX permitiu que mais de 40 milhões de latino-americanos comprassem em sites internacionais e mais de 1.000 lojas online de todo o mundo pudessem chegar a todos os seus consumidores na região. Para mais informações, visite https://www.ebanx.com/br e https://business.ebanx.com/pt-br/.
Get in touch with our Public Relations office.
For press inquiries, company information, press releases and more, please fill out the form beside or contact our press team via e-mail: press@ebanx.com.