Voucher Payments in Latin America
Reach a huge part of the Latin American population with voucher payments
Whether by cultural preference or need, voucher payments are extremely popular in LatAm. With a large unbanked population, many Latin American shoppers depend upon this method to pay for their online purchases. Vouchers are trusted by consumers and chargeback-free.
Why do Latin Americans Pay With Vouchers?
Payment vouchers are a part of the daily-routine of Latin Americans, for online and offline payments. They have historically been issued to pay for monthly bills, such as energy, water and governmental taxes. They are trusted by and accessible to 100% of the population.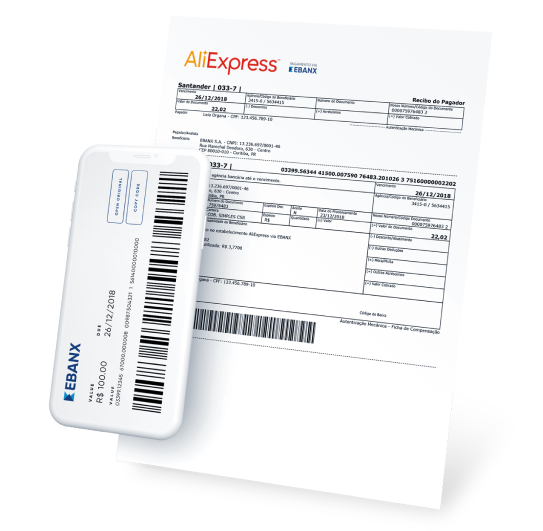 Paying in cash remains king even in e-commerce because of many cultural preferences
Source: Internal Data, EBANX, 2017
Source: Internal Data, EBANX, 2017
How voucher payment works
The customer journey:
1
Customer selects the voucher as payment method in checkout.
2
A voucher with a barcode is generated for the customer to either print, copy the barcode number or scan it with their phone.
3
Customer pays it in cash in over 300k locations or through internet banking or via the bank's mobile app.
4
Payment confirmation in the next business day.
Outstanding Voucher Features by EBANX
Discover enhancements created by EBANX that have already transformed the Payment Experience for shoppers in Latin America.
Mobile-responsive voucher
Offer customers a voucher 100% compatible with mobile devices, featuring only the essentials for the customer to effectuate the payment.
Customized vouchers
Add your company's logo on the payment voucher to increase trust among customers.
Geolocation
Show customers the closest physical payment locations to incentivise faster payments.

*Available in select countries.
Optimized barcodes
Make it easier for customers to pay online for their vouchers with scannable and copyable barcode numbers.
E-Wallet
Receive instant payment confirmation of vouchers paid with the EBANX e-wallet.
+300k payment locations
Allow customers to pay with cash in more than 300k establishments throughout Latin America.
Voucher payments available in Latin America with EBANX
Country

Payment Method

Payment Processing
International Settlement

Payment Processing
Local Settlement

Brazil

Payment Processing
International Settlement

Payment Processing
Local Settlement

Mexico

Payment Processing
International Settlement

Payment Processing
Local Settlement

Argentina

Payment Processing
International Settlement

Payment Processing
Local Settlement

Chile

Payment Processing
International Settlement

Payment Processing
Local Settlement

Colombia

Payment Processing
International Settlement

Payment Processing
Local Settlement

Peru

Payment Processing
International Settlement

Payment Processing
Local Settlement
Get higher approval rates with EBANX