7 GAME-CHANGING PAYMENT MOVEMENTS IN LATIN AMERICA
International commerce and payments in Latin America after COVID-19


A look into how the online market is being transformed
in Latin America after the COVID-19 pandemic; and how
Latin Americans will pay for goods from online retail to digital
products and services including online games, streaming,
ride-hailing, food delivery, and SaaS subscriptions

Get to know the 7 movements that are essential for global brands looking to reach the region to know and will surely be a large contributor in the growth of the region for years to come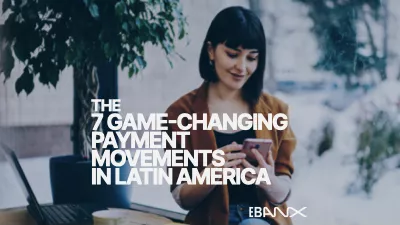 You will find out about
This white paper, informed by exclusive market data, will dive into each payment movement that will drive international commerce, and what global brands across a variety of industries should keep in mind when looking to reach the newly digital customers in each country across Latin America.
A newly digitalized Latin America emerges
The e-commerce market in Latin America is undergoing a transformation. The influence of the ongoing COVID-19 pandemic, an increase in digitization, and growing demand for international products and services is creating new consumer habits, and most notably payment movements that will drive growth and solidify it as a global market power player.


Read it all on LABS - Latin America Business Stories, a news outlet focused on business, tech, and society powered by EBANX.