ebanx Billing
A custom-made and uncomplicated billing solution for your business
For all brands that are seeking to go truly global and reach new markets in Latin America through a subscription model, EBANX's tailored billing solution can support your plans. Sell in local currencies, accept local payment methods, get access to high-end technology and market intelligence. All that to support your business growth, guarantee an increase of payment performance, revenue, and customer retention while decreasing churn.
The early stage of subscription adoption in Latin America is a huge opportunity for businesses looking for a subscription operational model in the region.
Latin American consumers are increasingly signing up for subscription plans, boxes, and a new realm of digital services that include: entertainment platforms, fitness centers, booksellers, club cards and even parking lot payments. The subscription market is rising, and it's safe to say that this just the beginning, brands looking to reach new markets in Latin America can be part of this unstoppable growth.
EBANX billing, the flawless solution for you to go further and win new consumers.
With EBANX you can go beyond and offer a tailored billing experience to your customer: local currency and payment methods, in 13 Latin American countries. Everything through a single integration and no extra cost for your business.
A seamless payment experience for your customers

Offer localized payment methods that support a subscription model is key to optimize revenue, market reach and approval rates. With EBANX you can accept not only cards, but also local alternatives payment methods such as vouchers. Have the ability to turn on all these payment methods directly in the EBANX Dashboard with one click.

Local currencies, international settlements

Charge your Latin American customers in local currency by accepting local payment methods and receive your funds in USD anywhere in the world.

Less cancel subscriptions

With tokenized credit card payments saved at our recurring engine, active customers don't need to input their card information every billing cycle. Also counting with a card updater feature, the engine automatically updates expired or canceled cards when payments fail for these reasons helping to reduce abandonment rates and churn.

Operational control and flexible integration

Control and manage subscription through API or EBANX Dashboard: customers, plans, receivables, discounts and more. In this way, you don't need to integrate with a separate Billing Engine. Effortless and intuitive, with EBANX you choose how to operate.

Boost payment acceptance

EBANX developed a dynamic smart routing, retry technology and account updater as a part of our recurring billing solution to ensure successful payment by automatically updating user's card information, enabling maximum acceptance rates and giving merchants the ability to route transactions to the right acquirer for each customer.

Protect your business and your customer transactions with EBANX Shield

A localized and robust fraud prevention system for every country you sell to. Access to card verification work to protect every transaction. Hard rules are set to avoid undesired behaviour mainly through customer data validation and parameters such as device fingerprinting and enrollment date.

Simplify your business management

Through EBANX Dashboard you get access to a complete reconciliation and reports with detailed content on each transaction. The control of all your payment operations in Latin America is in your hands.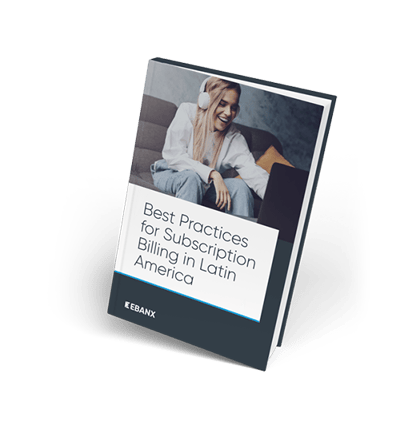 ebook
Subscription billing best practices
To win and keep subscribers over the long term, you need to fine-tune your processes to maximize customer acquisition, customer satisfaction, and revenue. Making subscription payments available is only part of the challenge. Check out the best practices for subscription billing in Latin America that we've mapped out and you can implement today.
Download the Subscription Best Practices ebook
A payment platform that perfectly fits your business model and subscription plans
Our flexible and intuitive platform allows you to test and change pricing plans in a few clicks, either through our API or Dashboard. EBANX, billing came to simplify the market, allowing you to test new formats with the freedom to manage your business in the way you want.
Create subscriptions through recurring payments at the billing engine.

Update subscription credit card data.

Delete subscriptions.

Read your existing subscriptions.

Create your products at our billing engine.

Create your plans at our billing engine.

Custom your billing dates: weekly, monthly, or annually.

Offer free trial and determine discounts for different plans.
Thrive your business in LatAm and provide your local customers a seamless experience. Use EBANX Billing solution as your third party subscription management platform.