INTEGRATION FOR Shopify
How to install EBANX gateway?
We're glad to know that you're coming aboard with us! The steps below will show you the way in order to do that:
Step #1
Click on this link to enable our single gateway named "Checkout via EBANX" at your store. With this single gateway, all payment methods for all countries will be set automatically.
Step #2
In your Shopify administrative panel click on "Settings" then select "Payment providers". In the new screen that has loaded, you'll see the "Choose: alternative payment method" button and click over it.
Step #3
On the next page, you're going to search for our payment gateway that is called "Checkout via EBANX" and then you click on it.
Step #4
Next, you'll need to get your Public Integration Key, as well as your EBANX Shopify Key, both available at the Integration section of your EBANX Dashboard. In case you don't have access to the dashboard yet please fill out this form.
Step #5
Click on "Settings" again, then on "Checkout" to set your Form options as per our guide. This process is mandatory in order to ensure that your checkout will work properly. Don't forget to click on "Save" once
Step #6
Lastly, access your store and go through a regular purchase flow in order to confirm that the gateways that you've just installed are appearing as payment options. In the case they are not, please send an e-mail to integration@ebanx.com asking for support.
Manage your Shopify store through EBANX Dashboard
The EBANX dashboard is directly connected to Shopify's administrative panel, transmitting all information automatically and transparently. This way you can make complete management of your online store.
Integrated features
Manage your Orders
Ask for Refunds (Through Shopify's administrative panel)
Payment status updated automatically
Boletos are instantly canceled after their due date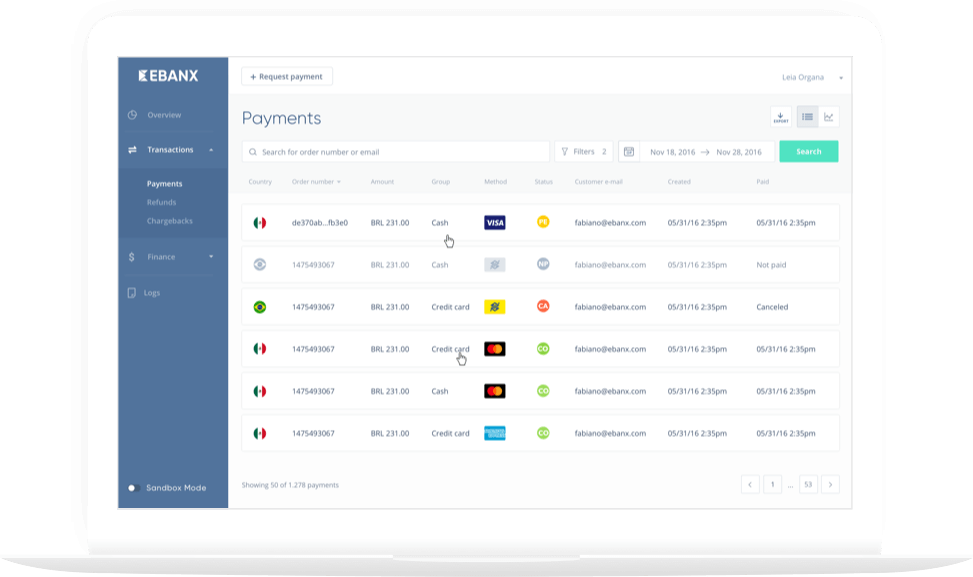 RE
Status RE (Request)
When the customer reaches the payment information stage of a purchase.
PE
Status PE (Pending)
When the customer printed a cash payment voucher or has its payment under analysis.
PA
Status PA (Paid)
When a purchase order has been confirmed to be paid.
NP
Status NP (Not Paid)
When a purchase order has been canceled or a cash payment voucher hasn't been paid.
Frequently Asked Question
Where can I find my Shopify keys?

In the EBANX Dashboard, to understand how to register your shopify store click here

How do I change the currency of my Shopify Store?

Go to Setup -> General -> Store Currency

How do I register facebook pixel and google analytics on my site?

For credit card, facebook pixel has to be registered in Shopify administrative panel, for vouchers, like Boleto, you need to send an email to integration@ebanx.com and we register to you.

How does the transfer of installment fees to my customers work?

Can I pass the IOF to my customers?

Unfortunately, we don't have this option for Shopify yet.

I want to receive an email when the customer makes a purchase, how can I do that?

I want to show my products in the local currency, how can I do that?

If you process your payments in one country you can change the currency but if you sell in multiple countries, unfortunately we did not offer this option.

When are Boleto reminder email sent?

When the email is created, after 24 hours and Due Date - 1
Start getting more orders from Latin America