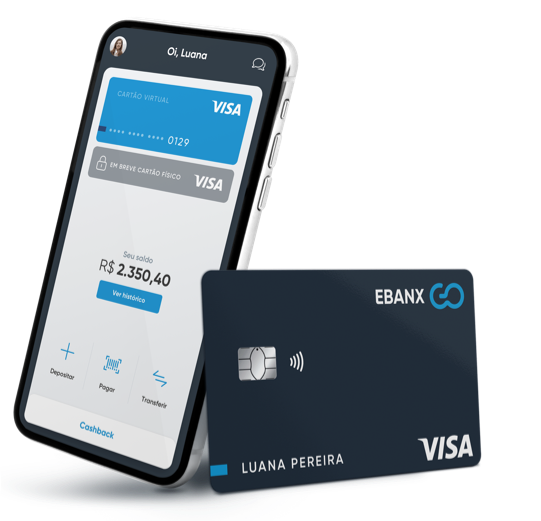 EBANX GO
A digital account with cashback program that brings you closer to Brazilian consumers
Be part of the EBANX GO cashback program without any costs, and leverage your brand locally. Your customers receive 5% back on every purchase processed through EBANX.
Start to offer cashback as a business strategy
Participate in the cashback program without costs, increase your sales, and retain your customers by offering 5% cashback on payments made with EBANX GO.
Cashback is a strong marketing strategy that is increasingly popular among Brazilian consumers. The possibility of associating this benefit with a digital account that is giving access to consumers is a game-changer. From January to June, EBANX GO has already processed 4M BRL for merchants in the cashback program.
Discover EBANX GO
Quick and easy to start

No need for software implementation.

No costs for the merchants

The 5% cashback is paid by EBANX for the merchants that process 100% of their Brazilian payments with us.

Direct communication with the customers

We bring you closer to your customer by creating communication strategies through the multiple EBANX GO channels - such as website, email, in-app page, social media, SMS, and push notifications.

Improve your promotion

Extra cashback campaign opportunities.
Connecting enterprise companies to Brazilian consumers
Around 45M Brazilians don't have a financial institution account, and 81% of the population doesn't have an international credit card. We provide them the chance to get a digital account and a virtual credit card with less bureaucracy, leading to a better purchase experience.
By partnering with EBANX GO, the merchants get closer to this potential customer base and also increase their brand awareness in Brazil since we carry out campaigns and direct communications to end-users disclosing the cashback and the partner companies of the program.
Our digital account is instituted by Dock (of the Conductor Group), which is a payment institution that is part of Visa's payment arrangement and complies with all the security requirements and guarantees of Brazilian law, BACEN, and the Visa Rules and Policy
Digital Account

For users to manage their purchases and payments.

Virtual Visa prepaid credit card

For users to buy online on e-commerce, websites, and apps around the world much more easily.
Ready to get in the best international cashback program?