Multicaja
Start to accept Multicaja and be an option for 48% of Chileans who do not use cards.
Not all Chileans have cards or use them for online shopping. With EBANX and Multicaja, you are offering this part of the population a well-known and convenient method to pay in cash or through debit from their bank accounts.
How will Multicaja help your business?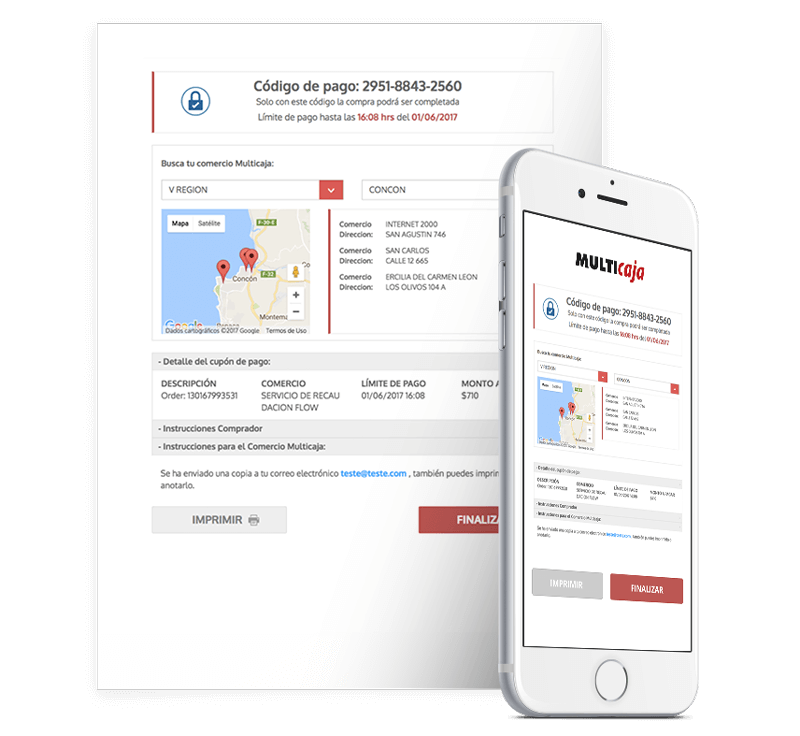 Multicaja is a Chilean company created in 2007 that works as a business network throughout Chile, connecting large and small companies with bank issuers and service providers through its terminals and technologies.
When choosing Multicaja, the customers generate a coupon that can be paid in cash at any of over 5000 Multicaja affiliated places or pay through debit from their bank accounts. You make your customer purchase easier, faster and secure.
Grow your business in Chile with a local payment partner
Under one single platform, EBANX unifies the fragmented pieces of operating in a different country. We support you with market expertise to adapt your business strategy and start offering local payment methods to your Chilean customers.
How Multicaja work
The customer journey:
1
Select to pay using Multicaja on your checkout page.
2
The customer could generate a Voucher and pay in cash.
3
Or make a transfer to the Multicaja account.
4
The transaction is confirmed immediately.
Benefits of accepting Multicaja
Reach a new customer base

Multicaja is a cash payment option used by a lot of Chilean consumers who do not have a bank account or a credit card but they also want to make online purchases.

Protection for your business

This is a risk-free payment option, you don't need to worry about chargebacks.

Optimal UX

EBANX vouchers are mobile-friendly with scannable and copyable barcode numbers to give your customers the best payment experience.
Start to accept Multicaja on your online business