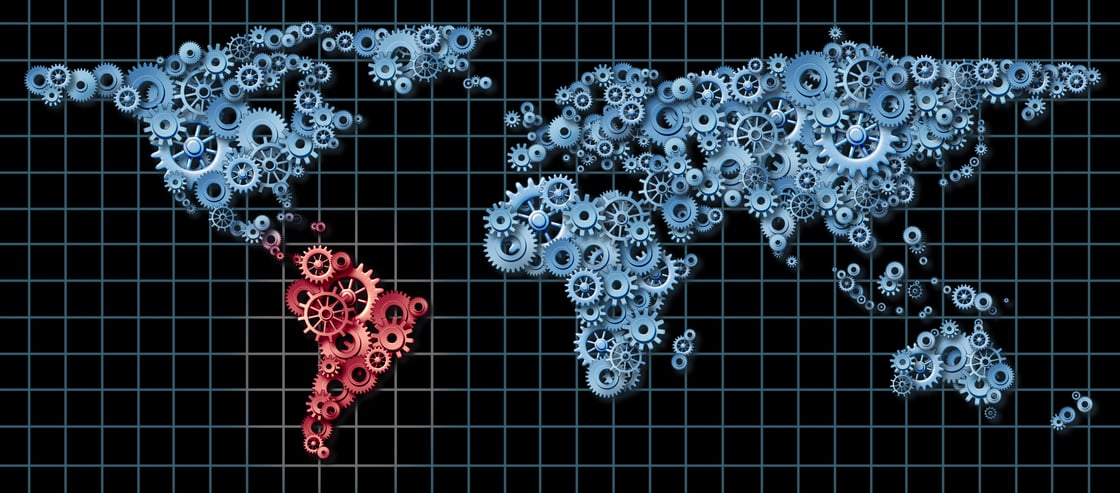 Why Paypal and Stripe are not enough to sell to Latin America
Before we go into the details of the Latin American payments landscape, I would like to give you some context of the size and diversity of Latin America, a group of 20 countries with more than 626M¹ people. The top 7 most populated countries represent 80% of the entire Latin America population, and concentrate 83% of the regions GDP.
On the chart below, you'll find a comparison of Latam's top 7 economies, organized according to their populations:
Top 7 Economies of Latin America
Analyzing the data above, we can understand more accurately the complexity of the Latin American market. The most populated country, Brazil, is also the most important economy, with 67% of internet penetration and 68% of banked population. On the other hand Peru, the 7th economy, has only 29% of its population banked.
To further understand the extension of Latin America and its effect on culture, Mexico borders the United States while Brazil, Chile, and Argentina are far south of the continent. Nonetheless Colombia, Peru, and Venezuela, are as geographically close as they can be, they still have cultural differences among each other.
All of these differences: population, internet penetration, banked population and geographic location, make Latin America a complex ecosystem for international businesses to reach the entire potential of this market. Specially when it comes to digital businesses from developed countries some particularities may be tricky when expanding or improving business performance in Latin America.
Now that we are on the same page about the size and complexity of the market in Latin America, we can talk about the subject.
Why PayPal and Stripe simply not enough
1. Local and Alternative Payment Methods
The main problem with PayPal and Stripe, is that they aren't specialized in emerging markets and only accepting payments via credit cards, most specifically, international credit cards. In Latin America, most people don't have an international credit card. Take Brazil for example where only 19% of the entire population has a credit card enabled to buy in international websites or transact in foreign currencies.

Distribution of Payment Methods in Brazil
LOCAL/DOMESTIC CREDIT AND DEBIT CARDS
Yes, in many Latin America countries there are two different types of credit cards. The credit cards that allow consumers to buy internationally, these ones we call "International Credit Cards", another type of credit card disabled for international purchases or transactions for different currencies of the issuing country, this one is called "Domestic or Local Credit Card".
As I already mentioned, without a local credit card your business is losing a huge market share in Latin America. Surely you are familiar with Visa and MasterCard credit cards, right? But did you know that there are other credit card brands like Elo, Hipercard and Magna, for example? Because of that, make sure to offer domestic credit cards as a payment option to your consumers is the most important change to dramatically increase your credit card approval rates.
INSTALLMENTS OR "PARCELAMENTOS"
Another fact that contributes to low credit card approval rate, is the incapacity of some payment providers to offer installments in credit cards transactions. Recently the Brazilian Credit Protection Agency released the result of a nation-wide research on installments and shows that 79% of Brazilians normally pay in installments in an average of 6 installments.
Without installments, domestic credit cards, and local acquiring, the approval rate for credit cards in Latin America is very low, usually between 30 and 50%. Accepting local credit cards with installments enabled can increase your approval rate up to 90%, that's right, 90%.
Another huge obstacle are the alternative payment methods like Cash Payment or Online Bank Transfer. Latin America has some issues that prevent people from having an international credit card, and because of these problems a big part of the population prefers to buy through alternative payment methods. Let's see what these alternative methods are:
CASH PAYMENTS
The most popular alternative payment method to buy online in Latin America is cash payment, yes it sounds crazy, people buy online and pay using cash.
Yes this might sound crazy, but it's not. In Mexico, for example, 32% of all online payments are made via OXXO, the most popular Mexican Online Cash payment.
In Brazil, a research carried out by EBANX revealed that 71% of Brazilians prefer to use boleto bancário, the most used cash payment in Brazil, as online payment method even when having a checking account.
Cash payments don't canibalize other payment methods like credit card, they complement them and increase the conversion rates. Most Latin Americans have a small credit limit to spend every month, and when that limit runs out, the solution is to pay in cash.
ONLINE BANK TRANSFER
Most popular in Colombia, Online Bank Transfer is a payment method that allows users to pay online by using their checking account via internet banking.
The consumer almost always chooses to pay via Online Bank Transfer in the checkout Page and then is redirected to their internet bank system to authenticate & confirm the purchase. After that, the bank charges the consumer's checking account to collect the money of the purchase.
The most used Online Bank Transfer in Colombia is PSE (Pagos Seguros en Línea), by accepting PSE as a payment option grant access to 62% of the entire internet users in Colombia, and combined with Colombian cash and credit card payments your business can reach all the internet users that buy online in Colombia.
While in Colombia people like to pay via Online Bank Transfer, in Brazil this method of payment is not so popular, but if your are seeking to increase your conversion rates, this method can be an alternative to earn that 1% that makes a lot of difference at the end of the month profits. After all, who doesn't want to uplift conversion rates, right?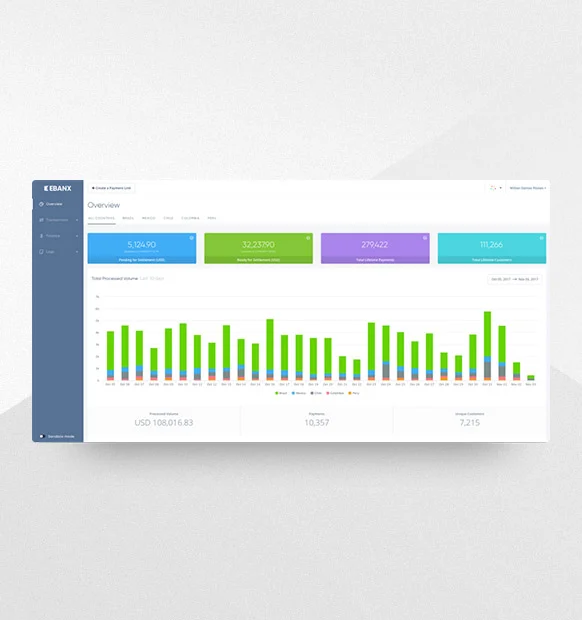 2. Sell locally and get the money globally
Selling locally with alternative payments is just the first part of the money journey. In addition to sell in the local currency, you need to get your money anywhere in the world, directly in the bank account of your company.
This is the hardest part of the entire cross-border transaction, and only local payment processors that are specialized in cross-border payments are able to collect the money in local currency, convert it to dollar and transfer it to any other bank in the world. Payment processors that aren't specialized in cross-border payments cannot complete transactions efficiently and swiftly.
3. Localized Customer Support
Another aspect that makes an important difference between global payments processors and a local payments processor is to serve your customer in their language, and more than just speaking the correct language, it is to know how to solve each of the possible problems that consumers may have in each of these different countries.
Here at EBANX we have an entire multicultural team of consumer services, which works 24/7 to serve all consumers who may have any type of problem at the time of the payment. With agents from all over Latin America, we speak the language of the consumer, understand their difficulty and particularities of each alternative payment methods, solve problems or help this consumer to complete a purchase.
Here is another potential increase in your conversion rate, that you only acquire by partnering up with a local payments expert, that goes beyond payment process.
4. Location, not just translation
Most of global companies just translate their checkouts or payment pages, this is not wrong, but to achieve a conversion rates that fills your pockets with money you need to not just translate your website to Spanish or Portuguese, but adapt your website, checkout and payment page to the reality of your customer. Let's see some examples:
• In Brazil the personal identification number is called "CPF" and in Chile is "RUT", and not Social Security Number or just ID.

• The zip code in Brazil has eight digits and is called "CEP", and not Zipcode.

• Streets are not displayed in numbers but in names.
These examples are just a sample of words and terminologies that require a location and not just translation.
The dollar exchange rates fluctuates a lot, so showing the price of your product in the local currency, provides a best user experience and makes the consumer feel secure to buy.
5. Better knowledge about the market
You know your business, we know Latin America. With a local payments partner like EBANX you can benefit from having experts in Latin American market working to provide the best experience and conversion rates to your business.
We are constantly developing new products not just for merchants, but for consumers too. With a 23 million consumer base, EBANX provides a brand recognition at the checkout page removing the consumer doubts when making a payment.
We are always looking to improve our risk & fraud prevention systems to achieve the perfect match between quantity and quality in transactions. With redundant systems we could double check all the informations of your transactions, and using smart routing we significantly increase the approval rates for credit cards transactions.
Without a local partner you are not doing business in Latin America
If after reading all this information on how to improve your business in Latin America, you still have questions about why PayPal and Stripe is not enough and how EBANX can double your conversion rate, we can talk specifically about your biggest business challenges and help you to reach the entire potential of this huge market. Just provide some contact information about you and one of our payment experts will walk you through the process.
Furthermore, you should evaluate the pros and cons of all the payment processors you are considering to your company expansion, you can hire more than one payment processor according to your needs, such as Stripe and EBANX, for example.
PS: We would love to challenge your current payment provider and show what EBANX can offer to your business.
In this white paper, you will find information and insights about Latin America, its e-commerce market, and the main payment trends. Download now and get to know this market full of opportunities.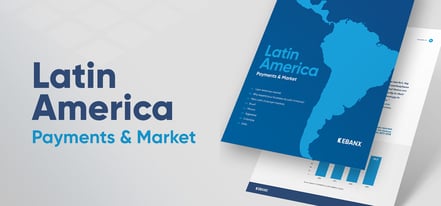 References
Latin America Population from CEPALSTAT
Latin American Economies from Wikipedia
Internet Users from Internet World Stats
Banked Population on World Bank Data
What are the key factors you should know in expanding and growing a business in Latin America? Each week we'll unlock a new content guides to help you navigate the market and localize in the region.
Subscribe here in our newsletter