The boleto bancário or boleto for short is preferred cash payment method in Brazil. A boleto is printable document that is used to complete an array of purchases with cash. A boleto can be used to pay a utility bill, buy a product in a store and/or order an online product.
There are unique boletos for each purchase that the merchant modifies for their company or service, however, each boleto has the following basic features: barcode, serial number, company name, customer information, name of boleto issuer, expiration date, bank code, and the total amount due.
Why do Brazilians prefer this payment method?
How does a boleto bancário work?
The boleto is generated for the customer purchase.
The customer has until the expiration date to pay the boleto in cash or online before garnering late fees.
Payment is confirmed by the issuing bank within 3 business days.
Finally, the bank credits the payment in the merchant account.
Where can it be processed?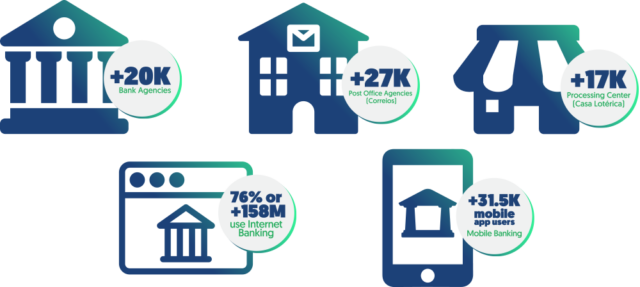 Requirements for accepting boleto transactions in Brazil
To accept boleto payments without a local processing partner, your company must establish a local entity and open a Brazilian bank account. The process of opening a local branch includes: submitting a request to the government, registering at the board of trade and sending foreign capital through an authorized Brazilian institution, among other formal requirements. All documents must be submitted in Portuguese and ultimately the branch would be subject to Brazilian laws, regulations, and taxes.
By partnering with EBANX, your company will benefit from offering boleto and other payment methods to Brazilian buyers without needing to establish a local entity or open a Brazilian bank account.