How many Brazilians use boleto to complete online purchases?
All Brazilian adults use boleto at least once a month for a utility bill or to pay an installment, or parcelamento, on a product they took home months ago; however, in comparison, very few Brazilians use boleto for ecommerce and omnichannel purchases. According to an E-bit/Buscaspé study, only 19.6% of local ecommerce purchases and 11% of international online purchases were made with boleto in 2015. If nearly all Brazilians use boleto, then why is boleto not a popular method in ecommerce?
Not many merchants, local or international, offer boleto as a payment option on their ecommerce websites.
Nonetheless, boleto is an untapped payment tool that can open the market to millions. Credit is hard to obtain in Brazil; in fact, over 60% of Brazilians do not have access to an international credit card and 40% prefer not to put credit card information online because of the high fraud risks. Brazilians trust boleto as a payment option and when the option is given it is preferred over credit card. E-bit reported that from 2014-2015, credit card payments in ecommerce declined by 0.9% and correspondingly, boleto payments increased by 0.8%.
How do boleto payments work in Brazil?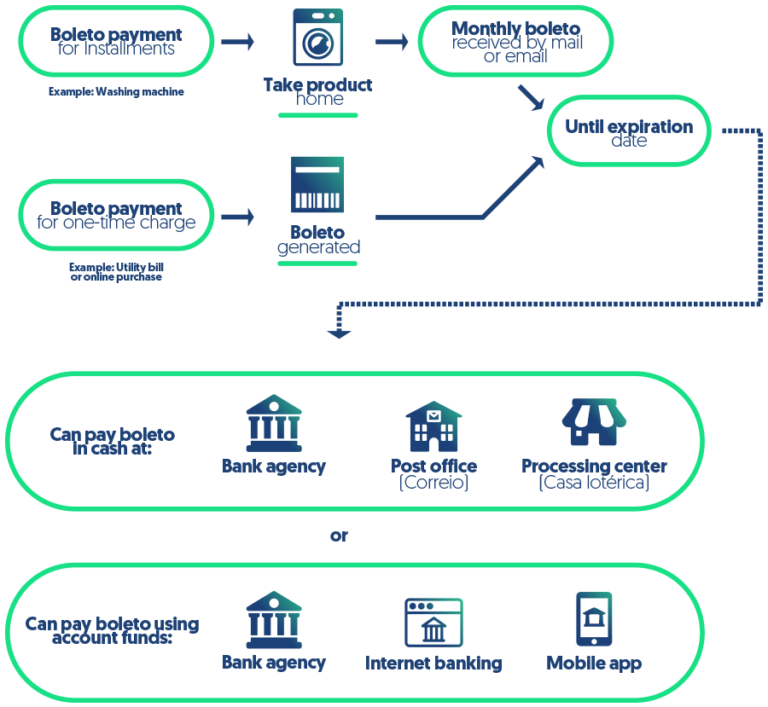 Why would your cross-border business benefit from offering boleto?
Boletos are available to the entire Brazilian population, not just the 37% who have access to an international credit card, and they are installment friendly, which is a regular practice in Brazil. Lastly, all boletos have a zero chargeback rate and are a low fraud risk.
EBANX is a local payment processor in Brazil and Latin America. We provide international payment solutions such as the EBANX Boleto which has special advantages for our merchants and end-consumers.